Thomas Knowlton & the Knowlton Rangers
From Hanksplace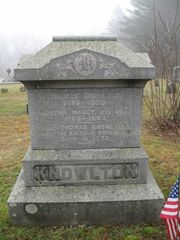 Relationship: Great grand uncle to Ephraim Knowlton Hanks. Brother to Ephraim's grandfather, Daniel Knowlton
Association: Thomas Knowlton was an American patriot who served in the French and Indian War and acted as a Colonel during the American Revolution.
Vitals
Born: (30 Nov 1740) (Ipswich, Essex, Massachusetts, USA)
Died: (16 Sep 1776) (Manhattan, New York, New York, USA)
Buried:
Spouse
Anna Keyes m. (05 Apr 1759) (Ashford, Windham, Connecticut, USA)
Children: 9
Parents
William Knowlton b. (8 Feb 1705/1706) (Ipswich, Essex, Massachusetts, USA)
Martha Pinder b.
Siblings:
Mary Knowlton b. (9 May 1729) (Bradford, Essex, Massachusetts, USA)
William Knowlton b. (10 Oct 1731) (Bradford, Essex, Massachusetts, USA)
Sarah Knowlton b. 22 Jul 1733 (Ipswich, Essex, Massachusetts, USA)
Lucy Knowlton b. (20 Feb 1736) (Ipswich, Essex, Massachusetts, USA)
Daniel Knowlton b. (31 Dec 1738) (Boxford, Essex, Massachusetts, USA)
Thomas Knowlton b. (30 Nov 1740) (Ipswich, Essex, Massachusetts, USA)
Priscilla Knowlton b. 20 May 1744) (Boxford, Essex, Massachusetts, USA)
Nathaniel Knowlton b. (9 Mar 1745) (Boxford, Essex, Massachusetts, USA)
Sketch
Thomas Knowlton was born into a military family on November 22, 1740 in West Boxford, Massachusetts. When he was eight, his family relocated to a farm in Ashford, Windham, Connecticut (current property of the June Norcross Webster Scout Reservation). In 1755, at fifteen, Knowlton served in the French and Indian War with his older brother Daniel. He enlisted in Captain John Durkee's company, and is known to have joined Daniel on scouting missions into enemy territory. He served during six campaigns in the war and was promoted to Lieutenant in 1760. He also fought in Israel Putnam's company against the Spanish at the Battle of Havana, Cuba in 1762. *Thomas Knowlton, complete reference
By 1762, Knowlton had returned home and married Anna Keyes. He and his wife raised nine children. At the age of thirty-three, Knowlton was appointed a Selectman of Ashford, Windham, Connecticut.
Thomas Knowlton is considered America's first Intelligence professional, and his unit, Knowlton's Rangers, made a significant contribution to intelligence gathering during the early Revolutionary War. Knowlton was killed in action at the Battle of Harlem Heights. On August 12, 1776, General of the Army George Washington promoted Knowlton to Lieutenant Colonel. He was ordered to select an elite group of men from Connecticut, Rhode Island, and Massachusetts to carry out reconnaissance missions. America's first official spies, "Knowlton's Rangers" were also the first organized American elite troops, analogous to a modern special forces unit. The famous American spy, Captain Nathan Hale, was under the command of Lieutenant Colonel Thomas Knowlton. The date "1776" on the modern U.S. Army's intelligence service seal refers to the formation of Knowlton's Rangers.
On April 18, 1775, General Thomas Gage dispatched a contingent of British troops to Lexington and Concord, about fifteen miles from Boston, Massachusetts. This action led to the outbreak of hostilities that became the American Revolution. On learning of the Battles of Lexington and Concord, the militias of Massachusetts and Connecticut communities mobilized their members. Thomas Knowlton joined his militia, the Ashford Company, which became part of the 5th Connecticut Regiment, along with the men from Windham, Mansfield and Coventry, Connecticut. Knowlton was chosen unanimously as Captain and led 200 men into Massachusetts. His force consisted of farmers, without uniforms, primarily armed with shotguns. Knowlton was ordered to Charlestown to join Colonel William Prescott. Knowlton's troops were sent by Colonel Prescott to oppose the advancing British grenadiers, and took their posts on the side of Breed's hill. Using a rail fence as a base, the men threw up a parallel fence and, filling the space between with new-mown grass, formed an effective breastwork. There they held their ground until the general retreat, and were among those providing cover as the troops retreated. Only three men from Knowlton's company died in the battle. Years later, Colonel Aaron Burr said: "I had a full account of the Battle from Knowlton's own lips, and I believe if the chief command had been entrusted to him, the issue would have proved more fortunate. It was impossible to promote such a man too rapidly." In June 1775, for his bravery at Bunker Hill, Knowlton was promoted by Congress to Major. One of his men later remembered that Knowlton was courageous to a fault, never crying, Go on, boys! but always, Come on, boys!. (Rose, p. 16) On January 8, 1776, he led a troop in a successful incursion into Charlestown to burn housing used by British officers.
On September 16, 1776, Knowlton's Rangers, outfitted as a regiment of light infantry, were scouting in advance of Washington's Army at the Battle of Harlem Heights. They stumbled upon the Black Watch, an elite Highlander British unit with an attachment of Hessians. They managed a successful retreat but re-engaged the enemy with the support of a unit led by Major Andrew Leitch of Virginia. General Washington ordered the units to fall on the enemy's rear, while a feint in front engaged the British troops' attention. An American premature shot into the right flank of the British ruined Washington's element of surprise. and placed Knowlton's Rangers and the Virginians at risk. Once the premature shot had been fired, Knowlton rallied his troops to carry on the attack. Both commanding officers were killed in front of their men. Knowlton's loss was lamented by Washington in his general orders for September 17, 1776 with the statement "The gallant and brave Col Knowlton, ... would have been an Honor to any Country, having fallen yesterday, while gloriously fighting ...".
The Battle of Harlem Heights was fought in the New York Campaign of the American Revolutionary War. The action took place in what is now the Morningside Heights and west Harlem neighborhoods of Manhattan in New York City on September 16, 1776. *Battle of Harlem Heights Map.
Image Gallery
Links
Name Directory