Sidney Alvarus Hanks 1820
From Hanksplace
Relationship: Brother to Ephraim Knowlton Hanks
Association: Missionary to Cook Islands and the Society Islands. Arrived with first company of 147 Saints into the Salt Lake Valley under the leadership of Brigham Young, 21-24 July 1847. Traveled again with Brigham Young arriving with 1220 individuals 20-24 September 1848.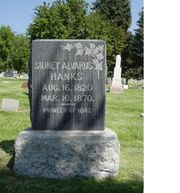 Vitals
Spouse
Mary Ann Cook m. (1 Jun 1862) (Salt Lake City, Salt Lake, Utah, USA)
Children:
Knowlton Hanks b. (11 Sep 1863) (Midway, Wasatch, Utah, USA)
Mary Ann Hanks b. (19 Apr 1865) (Wallsburg, Wasatch, Utah, USA)
Lydia Cook Hanks b. (21 Jan 1868) (Synderville, Summit, Utah, USA)
Parents
Benjamin Hanks b. (12 Jun 1788) (Hartford, Hartford, Connecticut, USA)
Martha Knowlton b. (16 Oct 1794) (Ashford, Windham, Connecticut, USA)

Siblings:
Missionary Service
Great Salt Lake City, Feb. 4th, 1858.
Elders Henry W. Bigler and John S. Woodbury.

Dear Brethren: Your letter of Dec. 3rd. arrived by the California mail of the 3rd. instant and your report of the condition of the S. I. Mission was no more unpromising than was warranted by previous advices. I was pleased to learn that so many of the Elders had already sailed and were about to sail for home and that your indebtedness was so small. You are all, without regard as to when you were sent, counseled to start for home as speedily as you can wind up your affairs and obtain passage money, not even leaving in that Mission one Elder who has been sent there, unless you should deem it wisdom so to do. Try to, inform Brother Alvaras Hanks and the Elders in Australia and those regions, that they are all recalled.
Our enemies have gone into winter quarters at the ruins of Fort Bridger and Supply, which were vacated and burnt by us last fall, and we are taking active measures to be in readiness for any movements they may choose to make when spring opens. In this matter the people are very spirited and unanimous, thoroughly understanding that the present administration has at length openly come out and is following the lead of Missouri and Illinois, determined to crush out Mormonism by killing every man, woman and child that will not renounce it. We are blessed with a good degree of health and enjoy an unusual portion of peace and that union which proceedeth from efforts to do good upon the earth, and realize that if God be for us, who can prevail against us? Praying for the blessings of Heaven to attend you and prosper you in returning to your homes.
I remain as ever your Brother in the Gospel.
(Signed) Brigham Young.

"P. S. Mr. Postmaster, or his deputy, or clerk, or anybody else: When you have read this letter, please forward it to its destination, for keeping it can do you no good." This was at the bottom of the letter.
Saturday, May 1st. 1858. At noon all went aboard on a vessel bound for San Francisco.
Image Gallery
Links
Name Directory