Knowlton Hanks 1816
From Hanksplace
Relationship: Brother to Ephraim Knowlton Hanks
Association: The first missionary to die abroad. It is believed that Pratt had a conversation with the Prophet Joseph Smith while working on the Nauvoo Temple wherein he mentioned his time on Oahu and how the Polynesians reminded him of American Indians. In May 1843, Joseph Smith called Addison Pratt along with Noah Rogers, Benjamin F. Grouard, and Knowlton Hanks to open a mission in the Sandwich Islands. Leaving their families on the banks of the Mississippi River, the four made their way to New Bedford, Massachusetts - the center of the American whaling industry - where they booked passage on the whaler Timoleon bound for the Society Islands, inasmuch as they could find no ship going to the Sandwich Islands. The ship pulled anchor on Oct. 9, 1843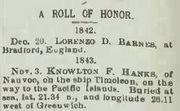 Vitals
Born: (2 May 1816) (Madison, Lake, Ohio, USA)

Died: (3 Nov 1843) (Died on the Ship Timoleon, West of Greenwich)

Buried: (3 Nov 1843) (Buried At Sea, Atlantic Ocean)
Spouse
None
Parents
Benjamin Hanks b. (12 Jun 1788) (Hartford, Hartford, Connecticut, USA)
Martha Knowlton b. (16 Oct 1794) (Ashford, Windham, Connecticut, USA)

Siblings:
Missionary Service
In April Conference, 1843 Noah Rogers was called on a mission to Vermont, with Addison Pratt and four others. Soon after this he was called with others to open up a mission in the Society Islands. He was set apart for this calling, May 23rd, 1843. His name went down in the history of the church, as the first president of Society Islands. On June 1st, 1843 Noah left home to fill this mission. The other brothers who were with him were Addison Pratt, Benjamin F. Grouard, and Knowlton Hanks. Brigham Young had set them apart and gave them general instructions. They did much missionary work in the States while waiting for their passage to the islands. Each had experienced religious conversion, was well read in the scriptures and knew the basic tenents of the gospel.
They boarded the ship, Timelion, and bid their families and friends farewell, Oct. 9, 1843. (Noah Rogers' journal tells his story of his experiences on this mission) They landed at Papeete, Tahiti, Society Islands, April 14th, 1844. It took nine months and five days to make this voyage. During his mission he had many hardships and trials to contend with and many heartaches and discouragement.
Having been set apart together with Addison Pratt, B. F. Grouard and Knowlton Hanks, to go to the South Sea Islands in order to fulfill our appointment, we made ourselves ready and took leave of our families and friends in Nauvoo on the first day of June 1843 about 2 o'clock in the day. We traveled by steam boat, rail and horse--preaching the Gospel along the way, meeting many friends and baptizing some.
The 9th of October we went on board the ship "Timelion" and bid farewell to our friends. We got under way, the winds being South West we beat down below the lighthouses and came to anchor. Next morning got out to sea. Brother Hanks is very feeble and weak. There are eight passengers on board the ship besides ourselves. Dr. Winslow and wife and 3 children, a servant girl, Mr. Lincoln and wife, who have been very kind to us so far. We had some high seas so that they ran over our decks, winds were fair and it began to be more pleasant to me had not Brother Hanks been sick but such was the case, and he grew weaker all the while until the 3rd day of November. He departed this life without a struggle, about half past five in the morning. Before he died he had a vision of the spirits in prison. We laid him out, the same as on shore, and we sewed him up in a piece of canvass, and attached a bag of sand to his feet. The flag was displayed at half mast and there were prayers with other ceremonies as is common on such occasions. When the sailors hoisted one end of the plank he was committed to a watery grave. He died in Lat. 26 deg. Long. 27 deg. Otherwise we had a very speedy passage to the cape of Verds Islands."
"Amid the wonders of the deep,
We made our brother's grave!
Sweet and unbroken is his sleep;
Lulled by the roaring wave."

(Latter-day Saint missionaries, Addison Pratt, Benjamin F. Grouard, Knowlton F. Hanks and Noah Rogers were sent to the islands in the Pacific to preach. Their original appointment was to work in the Sandwich Islands but after a lengthy voyage and arriving in Tubuai (400 miles south of Tahiti) before the Sandwich Islands, it was decided that the mission would be established in French Polynesia.)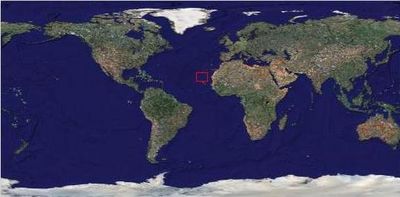 A Mission to the South Sea Islands
- by Inez Smith Davis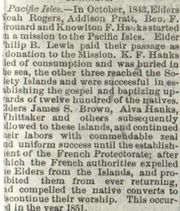 In the town of new Bedford, Massachusetts, was the commodious home of a Latter Day Saint by the name of Phillip Lewis. Here in July, 1843, might have been found four men, Addison Pratt, Benjamin Grouard, Noah Rogers, and Knowlton Hanks, Latter-day Saint missionaries bound for the islands of the sea. Passage had already been secured on board a Yankee whaler outbound for nowhere in particular. The boat was the "Timeoleon," and she had no schedule. She might be gone for years, but she would come back with sperm oil. Almost certainly she would, sometime in the next year or so, touch Tahiti. Captain Plasket wanted four hundred dollars to set the men down in Tahiti. Lewis paid three hundred dollars of the amount; and the remaining one hundred dollars, together with another eighty dollars for contingent expenses, was raised by the Saints of New Bedford, Salem, and Boston.
From the hour of its inception, the plan for carrying the gospel to the South Seas had gone rapidly forward. Twelve days from the date of their appointment, the missionaries were all set apart at a memorable meeting in the Presidency's office. Grouard and Pratt were ordained seventies at the same time, and Noah Rogers, already a seventy, was made president of the mission. The other member of the party was Knowlton F. Hanks. By June 1 they were off for New Bedford, visiting branches and conferences by the way.
Knowlton Hanks had been ailing for sometime, but Nauvoo had not been a healthful place, and his friends had talked of the benefits of a long sea voyage and the life-giving warmth of a winter in the tropics. He felt that once at sea his health would improve. The rough trip on the packet from New York to New Bedford had given him a deep-seated cold, which, together with the persistent cough he already had, was giving him serious trouble. Every few moments his body was wracked with coughing. Finally he suggested going to Boston where the members of the Quorum of Twelve would be in conference, and ask for administration.
Pratt never forgot that trip on the stagecoach with Hanks to Boston. The sick man had insisted on giving his seat inside the coach to a lady and taking a less comfortable one outside with Pratt. Terrible fits of coughing shook his emaciated frame, and in the periods of fatigue that followed them, Pratt feared his companion might never live to reach Boston. Supporting him in his arms, he prayed silently that they might safely reach their destination. But even the rites of the church failed to do very much. He begged them not to write to Nauvoo for fear he might be recalled. He wanted to go on, and if he must die, he said whimsically, let it be as near his mission field as possible.
All through July, August, and September the men waited. On the 9th of October, they were summoned to the boat. The blasphemous charities of the crew mingled with the prayers and farewells of the New England Saints who had gathered to see them off. It was an ungodly ship and a wicked crew, despaired of by even the zealous Addison Pratt, who wrote in his first letter home that he feared "there was little hope for them." The captain would have no prayers or sermons on board, and the missionaries had to content themselves with almost daily religious discussions. There were eight fellow passengers, not including the ship's mascot, an enormous land terrapin, captured on a previous voyage in the Galapagos Islands. There were Doctor Winslow, his wife, their three children, and their Irish maid, and a Mr. and Mrs. Seth Lincoln, whom the missionaries properly characterized in their first letter to Nauvoo as "Baptists who might someday be Latter Day Saints."
The first few days were stormy, and Hanks stayed in his berth, but later came fair winds and a smooth sea, and he joined the group on deck, talking of home and the "new religion," and laughed, as they all did, watching little Charles and Lizzie Winslow ride the great terrapin about the deck. But not many days passed before he became so ill he could no longer leave the cabin. The time was divided into watches of three hours, each of the three men taking turn by the sickbed. Anxious hours passed into days and weeks; still he lingered, growing daily thinner and weaker. It was about evening on the second day of November that Pratt, watching by his side, felt the end was near and lengthened his watch another three hours. Finally he turned the watch over to another of the brethren, but two hours later was summoned hurriedly to the bedside to see Hanks fold his own hands upon his breast and pass away.
There was but one more service to be done. Silent for once were the oaths of the crew as all was made ready for the saddest duty known to seafaring folk. A plank was laid on the starboard gangway, a piece of canvas on it. The body, wrapped in a sheet, was placed there, an eighty-pound bag of sand at the feet, and the old sailmaker sewed up the canvas shroud that was to be its only coffin. "The top-gallant masts were furled, the courses hauled up, and the main and mizzen topsails were hove aback, the noble ship stopped her headway," says Pratt, "and lay in gentle motion, as if to witness the solemn scene." The American Flag hung at half-mast, and all stood uncovered while Noah Rogers offered prayer. Then the plank was gently tilted, and the canvas-covered body slipped feet foremost into the waves. The log book chronicled latitude 21 degrees 34 minutes north, longitude 26 degrees 11 minutes west of Greenwich.
So Knowlton Hanks, the first missionary to die abroad, left his three brethren to finish their mission alone. A bit of old sail had been his coffin, the deep sea his grave, and a line in a whaleman's yellowed logbook his only epitaph.
---
Heart Throbs of the West, Vol. 8, p. 399'

Accordingly, the Prophet Joseph Smith called Addison Pratt, Benjamin F. Grouard, Noah Rogers and Knowlton Hanks, who were set apart May 23, 1843. On Oct. 9 these men took passage on a whaling vessel from New Bedford, each one paying $100 for the trip.
After four weeks out, Elder Hanks died and was buried with sea honors in the Atlantic, thus being the first "Mormon" missionary to die enroute to the mission field.
Elder Pratt's journal says:
"After we had prepared him in a neat burial robe, we wrapped him in a large winding sheet, and carried him on deck. A plank was laid in the starboard gangway and on it was prepared a piece of canvas. There we laid him and in it we sewed him up. To his feet was attached a bag of sand Of. about: 60 pounds weight. Then the American flag was hoisted at half mast and the generous crew gathered around and with uncovered heads listened to the dedicatory prayer of Elder Rogers. Then they gently raised the end of. the plank and my eyes followed him till the white speck vanished in the waters below."
---
Autobiography of Addison Pratt

Editor's Essay: The Years 1829 to 1843
Page 116-117

The day set for the departure of the missionaries was 1 June 1843. After noon, Addison made his way to the steamboat landing, accompanied by his family, and carrying the youngest daughter in his arms. Addison and Louisa expected a typical foreign mission of two or, at the most, three years; they were to be separated over five. Each was to undergo experiences none could then imagine. The four missionaries boarded the Sarah Ann at 2 P.M., bound for St. Louis.
No Mormon elder remained quite the same man through a mission, however short. No group of Mormon elders was to have their lives so radically affected as by this mission the church's first to a foreign-language, foreign-culture people.
In addition to Addison Pratt, who was then aged forty-one, (here was Noah Rogers, aged forty-six, a native of Connecticut. Roger left at Nauvoo his wife Eda with nine children, seven boys and two girls, ranging in ages from twenty-one to five. Rogers had joined the church in February 1837, emigrated to Missouri in 1838 only to be repelled from the state, and had settled at Nauvoo.
In July 1840 he and a friend had been kidnapped by some Missourians, put in jail in irons, and held until August, when Rogers made his escape and returned to Nauvoo, having narrowly escaped death Possibly because of his age or his Missouri persecution, Noah Rogers was appointed to preside over the mission enterprise. The practice of designating a president was an institution just forming; usually elders went as companions planning their work by mutual counsel. Clearly the name of Addison Pratt was first in the minds of the Twelve, and the mission had its inception with him. Always it was "Addison Pratt and. .. " his associates.
Knowlton F. Hanks was the unmarried member of the party, aged twenty-seven and considered a "noble young man." Hanks was afflicted with consumption, and it was thought that a sea voyage could be the best prescription for his recovery. His health was a concern to the Twelve and his companions in travel.
Benjamin F. Grouard came by this mission as naturally as did Addison Pratt, though they were quite different in their backgrounds and family situations. Grouard had left a New Hampshire home when "but a boy of 14 years-wild and unruly," and had sailed the greater part of the world on American ships. He had married a woman of poor reputation and doubtful faithfulness. In Philadelphia in 1841 he had joined the Mormons and the next spring had gone to Nauvoo and worked through the summer. That fall he was ordained and sent on a mission to the East where he was joined by his wife. In the spring of 1843 the couple made their way to Nauvoo, and in May he was called to the island mission. Pratt and Grouard had both been to sea and were better prepared to patiently pass the days and months of a long voyage and of a longer mission. Grouard was a handsome, bright, and lively young man, a capable man, an earnest seeker after religious truths.
None of these missionaries had "had much experience in the ministry, and still less in foreign missions," but Grouard expressed the sentiments of the group when he wrote "we knew the cause was the Lord's and that out of weakness He was able to make us mighty to the accomplishing of His purpose."
From St. Louis they took a steamer up the Ohio River to Pittsburgh. En route, at Evansville, Indiana, Pratt got off and went to Pleasant Garden to take care of matters relating to his property there. The men were to finish their personal business and proceed to New Bedford, Massachusetts, "with all possible dispatch" and there "learn upon what conditions we could get passage to the Society or Sandwich Islands, and make arrangements if possible, to get away in October."

Death and Burial of Knowlton F. Hanks
Journal, September 20, 1843 to 1844
The Timpoleon Voyage from New Bedford to Tubuai
Page 124-125

2nd. At low twelve, was called by Brother Rogers to relieve him and stand my regular watch with Brother Hanks, and for the first time had fearful apprehensions that his dissolution was near at hand. At 10 A.M. his extremities were cold and the large drops of cold sweat covered his emaciated system. As his debility increased he became so much exhausted that it was with great difficulty he could throw up the rattleing phlegm from his throat and it was continueally threatening to strangle him. At this moment I stood watching him, he made a violent effort to throw off the obstruction, but through weakness was not able. In the struggle he lost his breath and his eyes rolled up in his head and I thought he had left us forever. I flew to Br. Grouard (who from unwearied attention had lain down to take a little repose) and before he could spring to his feet Br. Hanks caught his breath again and revived a little. Soon after some of the cabin passengers came in to see him. Dr. Winslow recommended a little wine and water. After takeing that he revived so much that he requested to be shaved and have his head combed, which was done. I then talked some time with him about his departure. His mind was clear and calm, spoke on the subject with much candor and resignation, and adjusted some of his temporal affairs &c. Between 12 and 1 oclock P.M. had another strangling turn, this reduced his strength so much that he could only speak in loud whispers after. Between 8 and 10 he fell into a drowse. After he awoke, he spoke to me in broken whispers and said, "I dreamed a dream, do you wish to hear it?" "Yes," I replied. "I dreamed I went to the spirits in prison where the Saviour went as told of in 1st of Peter 3d:19. It was an immense space. I looked to the East and to the West and saw immense multitudes of people of all ranks, but no children among them. I looked to the North and saw a stand or pulpit, they were just disperseing from it. I looked to see if there were any among them that I knew, but saw none. I thought they were to reassemble again in a few minutes and I should be there, and then I should see those that I knew."
About 11 oclock, he had another dream, and heard the last trump sound and saw the dead small and great (which were small and great in intellect for there were no children there) stand before God, a multitude which no man could number to be judged according to the deeds done in the boddy but he awoke before the dream ended.
Friday, Novr. 3d, 1843. A day of days to me is this, and long to be remembered. For this morning at half past five oclock died my dear friend and beloved brother in Christ, Knowlton F. Hanks. His mind through all his sickness was sane and serene, and he retained it so untill the last. He was compleetly resigned to the will of his Lord and Master. After we had prepared him in a neat burial robe, we wrapt him in a large winding sheet and carried him on deck. A plank was laid in the starboard gangway, on it was prepared a piece of canvass. There we laid him and in it we sewed him up. To his feet was attached a bag of sand of about 60 lbs. weight. Then the topgallantsails were furled, the courses hawled up, the main and mizen topsails were hove aback, the noble ship stopt her headway and lay in gentle motion, as if to witness the solemn scene. The American flag was hoisted at half mast, as a signal that one of her noble countrymen had gone the way of all the earth, then her generous crew gathered around, and with uncovered heads listened in breathless silence to a verry appropriate prayer, which was made by Brother Noah Rogers. Then they gently raised the end of the plank till the corps slid off and struck in the water feet foremost, in latitude 211 34' North, Longitude 26° 11' West from Greenwich. As he sank my eyes followed him till a white speck vanished in the blue waters below.
Reflections. I believe that the weight of sand was sufficient to sink him below the reach of all ravenous fish, and the salt at that depth sufficient to preserve him from putrifaction and there he will remain entire and unmolested till the morn of the first resurrection, and then he will come forth.
Image Gallery
Links
Name Directory