Harriet Amelia Decker
From Hanksplace
Relationship: Wife of Ephraim Knowlton Hanks, niece and as well as sister-in-law to Brigham Young
Association: Traveled with young son with the handcart pioneers, Jedediah M. Grant - Joseph B. Noble Company (1847)
Departure: 19 June 1847; Arrival in Salt Lake Valley: 2 October 1847; 171 individuals were in the company when it began its journey from the outfitting post on the Elkhorn River about 27 miles west of Winter Quarters, Nebraska.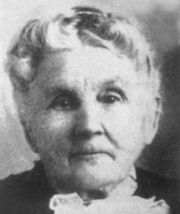 Vitals
Spouse
Edwin Sobieski Little m. (22 Mar 1842) (Winchester, Scott, Illinois, USA)

Child:
George Edwin Little b. (6 Aug 1844) (Nauvoo, Hancock, Illinois, USA)
Spouse
Ephraim Knowlton Hanks; m. (5 Apr 1862) (Salt Lake City, Salt Lake, Utah, USA)
Children:

Foster Child:

Yodes - Indian son b. (abt 1836)
Parents
Isaac Decker b. (29 Nov 1799) (Taghkanic, Columbia, New York, USA)
Harriet Page Wheeler b. (7 Sep 1803) (Hillsborough, Hillsborough, New Hampshire, USA)
Siblings
Lucy Ann Decker b.(17 May 1822) (Phelps, Ontario, New York, USA)
Charles Franklin Decker b. (21 Jun 1824) (Phelps, Ontario, New York, USA)
Harriet Amelia Decker b. (13 Mar 1826) (Phelps, Ontario, New York, USA)
Clarissa Clara Decker b. (22 Jul 1828) (Freedom, Cattaraugus, New York, USA)
Fannie Maria Decker b. (24 Apr 1830) (Freedom, Cattaraugus, New York, USA)
Isaac Perry Decker b. (7 Aug 1840) (Winchester, Scott, Illinois, USA)
History
Harriet Amelia Decker was born 13 March 1826, at Phelps, Ontario county, New York, the daughter of Harriet Page Wheeler and Isaac Decker. The family made several moves while Harriet was still a young child; first to Cattaragus County, New York; then to Portage, Ohio, and later to Franklin and Kirtland, Ohio. While living in Portage the family joined the Church of Jesus Christ of Latter-day Saints. Harriet was nine years old when she was baptized. The Decker family became close friends of the Prophet Joseph Smith, Brigham Young and Lorenzo Dow Young. They traveled with the Saints to Missouri and then to Illinois. Harriet experienced the fear of the mobs who persecuted the members of the Church.
While living in Winchester, Illinois she met Edwin Sobieski Little, son of Brigham Young's sister, Susannah, and James Little, and was married to him in her father's home by Joseph Young, on the 22nd of March, 1842. Edwin was 26 years of age and even though she was only 16, she was well trained in home making. Their son, George Edwin, was born 6 August, 1844 in Nauvoo, Illinois.
Harriet's mother and father separated the 9th of March, 1843. She later married Lorenzo Dow Young, brother of Brigham Young. Harriet's sisters, Lucy Ann and Clara Decker married Brigham Young. Her sister, Fanny, married Feramorz Little, a brother of her husband; so Harriet and her family were closely associated with the leaders of the Church.
During the time of the exodus from Nauvoo Harriet and Edwin with their son, George, crossed the Mississippi River and it is recorded in Harriet's history, "that Edwin was helping his Uncle Brigham Young across the river with the wagons, when the ice broke through throwing him into the icy water. He gained shore in safety but was chilled and wet."
When the Saints arrived at Richardson's Point, fifty-five miles from Nauvoo, they remained there a few days and several of the brethren found work for which they received corn to sustain their teams. It was here Edwin Little was taken ill with lung fever. He was removed to a house two miles from camp but his condition continued to grow worse and he died on the 18th of March, 1846. He was buried near the present site of Keosauqua, Iowa, in a grove of trees a few rods from the road. The Saints stayed in Winter Quarters the winter of 1845–46.
Harriet's mother, Harriet Decker Young, her brother, Isaac Perry Decker, and sister, Clara Decker Young, were permitted to go with the first company. Harriet Amelia and her little son, Edwin, came with a later company of 1847 of which Jedediah M. Grant was captain. It is told that she had a small box on the back of her wagon which contained three hens. These hens kept her supplied with eggs while crossing the plains. She, and her son, arrived safely in the valley the 2nd of October, happy to be reunited with her mother and other relatives.
Their first home consisted of the wagon in which they had traveled. Not only was food scarce and very difficult to obtain but so were cooking utensils and other necessities. Harriet helped other women with cooking and sewing in order to make a living. Ten days after her arrival she was helping to prepare dinner at the home of Captain Rosencranz for some of the members of the Mormon Battalion. Among the guests was a young man by the name of Ephraim Hanks. On September 22, 1848 they were married by Brigham Young, the ceremony being performed in her mother's home. Ephraim was the son of Benjamin and Martha Knowlton Hanks. He and his brother, Sidney Alvarus, had joined the Church in Nauvoo. Alvarus came with Brigham Young and Ephraim joined the Mormon Battalion.
Ephraim took Jane Marie Spencer and Hannah Hardy in plural marriage on the 26th of March, 1856, a month after Harriet's fourth child was born. Harriet's son, George Edwin, was a rider for the Pony Express when he was sixteen years of age. Ephraim had taught him to be fearless and to have faith in God. Harriet and Ephraim were the parents of seven children: Marcellus, Marcia Amelia, Otis Alvarus, Harriet Page, Clara Vilate, Charles Decker and Perry Isaac. They were all born in Salt Lake City, the last son, Perry Isaac on the 20th of January, 1863.
My mother, Mattie Little Hanks, wrote the following: "As a child I always looked forward to spring for that season brought my grandmother, Harriet Little Hanks, to the Teton Valley, Idaho from Salt Lake City. She had homesteaded an eighty-acre tract of land adjoining our property. She had a cozy log cabin built on it and spent six months of the year there. It was our responsibility to stay with grandmother every night. There were four of us children who took turns. We were always glad when it was our turn as grandmother always had something extra nice for us to eat and a nice soft bed to sleep in."
Harriet was living with her daughter, Clara, and her husband, John Felt, 155 North Main Street, Salt Lake City, Utah, at the time of her death May 30, 1917.

Our Pioneer Heritage, Vol. 2, p. 308-310
Obituary
Mrs. Harriet Decker Hanks, widow of Ephraim Knowlton Hanks, died at the home of her daughters, Mrs. M. Hyde and Mrs. Clara Felt on North Main Street, at 6:20 a.m., Thursday, May 31.
Mrs. Hanks was the daughter of Isaac and Harriet Page Wheeler Decker. She was born March 13, 1826, in Phelps, Ontario county, New York. Her ancestors on her father's side were Holland-Dutch and her mother came from the old Puritan stock of New England. They were sturdy God-fearing people, true to the type of colonizers from the old world.
At an early age in Mrs. Hanks' life her family moved from Ontario to Cattaraugus County in New York. The family consisted of four girls, two sons and the father and mother. Isaac Decker was a farmer, one of the old school, thorough and energetic. It was in Cattaraugus county the gospel reached them and they joined the Church of Jesus Christ of Latter-day Saints. When the subject of the sketch was nine years old she was baptized. The members of the Decker family became intimately acquainted with the Prophet Joseph Smith and his family and in the years that followed Isaac Decker was the warm and stanch friend of Joseph Smith until the prophet and his brother were martyred.
Mrs. Hanks crossed the plains in 1847, arriving in the valley of the Great Salt Lake in October of that year. She was the widow at that time of Edwin S. Little and had one child. She was married in September, 1848, to Ephraim Knowlton Hanks, a member of the "Mormon" Battalion, who had returned from California. He was a man of great courage and faith. Eleven children were the result of their union, three of whom survive the mother; they are Mrs. Marcia A. Hyde, Mrs. Clara V. Felt and Charles Decker Hanks, all residents of Utah. She was the grandmother of 40 and had 120 great-grandchildren and 25 great-great-grandchildren.
Funeral services will be held at the home of her granddaughter, Gertrude Felt Kimball, 238 A street, at 2 o'clock Saturday afternoon, June 2.
Interment will be in the city cemetery, Salt Lake City, Utah, USA.
- Deseret Semi-Weekly News; Thursday May 31, 1917
Links
Image Gallery
Name Directory