Alicia Quilley Read
From Hanksplace
Relationship: Sister to Thisbe Quilley Read
Association: Member of the Martin Handcart Company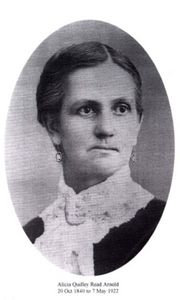 Vitals
Born: (20 Oct 1840) (Limehouse, Stepney, Middlesex, England)

Died: (7 May 1822) (Salt Lake City, Salt Lake, Utah, USA)

Buried: (12 May 1922) (Salt Lake City Cemetery, Salt Lake City, Salt Lake, Utah, USA)
Plot: J_7_1_2_E
Spouse
Orson Pratt Arnold m. (4 Nov 1860) (Salt Lake City, Salt Lake, Utah, USA)
Children:
Parents
Samuel George Read b. (28 Feb 1807) (Stepney, London, Middlesex, England)
Elizabeth Georgina Quilley b. (22 Sep 1805) (, Basing, Hampshire, England)
Siblings:
Sketches
Memories of Alicia Read Arnold
by Myrtle Snarr, great granddaughter


When Alicia and O.P. moved from the fort to their own home she finally got a new stove and what pride she took in it. They all loved cakes and pastries and she taught Grandmother the art of baking on it. I shall never forget the aroma of baking in the home whenever I visited. The kitchen table was always full of newly baked cakes, pies, cookies and bread.
I lived in her lovely home perhaps between the age of three and four. Grandmother and Grandfather Snarr took care of her at the time and I had some memories of Great Grandmother. Most of them was of sitting on her lap near a large window. On a small oval table usually was a tall vase of snapdragons on this table. Grandmother and I would play with them for hours calling them lions and tigers. I loved her and thought she was a queen.
Just before she passed away cousin Rhea Nielsen asked one early morning "How are you today Grandmother?"
She replied "I am tired, so tired my dear. You see last night I crossed those plains again all alone."

To this reply I wrote the following letter:
A LETTER TO GREAT GRANDMOTHER
Dear Great Grandmother:

How I wish the door could opened be
When I sat as a prattling child upon your knee.
Could those stories you told that made me laugh with glee,
Been some adventure scarred deep in my memory
Of savage or beast or something to lighten
The burden on that long, hard journey?
Yes, you traveled it many times in your memory,
For as one dear cousin asked as the time drew near-
Your journey to end in mortality.
"How are you today, Grandmother?
In weary voice you replied, "I am tired, so tired,
Last night I walked those plains alone you see!"
Great Grandmother, today each of us
Have our own mountains and plains to cross
And each must go alone until we find
The key that opens the door to our own destiny.
We each must leave our footprints on the sands of history
Until we close the circle and share his love thru all Eternity.

Myrtle Snarr
March 20, 1976

Image Gallery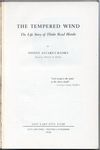 Books
The Tempered Wind - By Sidney Alvarus Hanks. A biography of Thisbe Quilley Read. Hard copy available in the Special Collections of the BYU Harold B. Lee Library. Call number BX 8670.07 .H194.
Links
Productions
Mormon Handcart Production - A theatrical re-enactment, dedicated to the Martin and Willie Handcart Companies of 1856 and their Rescuers, both past and present.
Sweetwater Rescue - From 1856 to 1860, ten handcart companies traveled to what they considered Zion. Eight crossed the plains successfully. Two—the Willie and Martin Companies—met with a wintry disaster in 1856, as did the Hunt and Hodgett Wagon Trains trailing behind them. The rescuers from the Salt Lake Valley faced the same horrific snows.
Name Directory