William Albert Capener Hanks
From Hanksplace
Relationship: Son of Ephraim Knowlton Hanks & Jane Maria Capener
Association: Missionary to Tennessee 1881; high priest. Justice of peace. Farmer and stockraiser.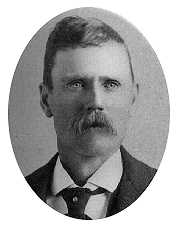 Vitals
Born: (17 Feb 1859) (Salt Lake City, Salt Lake, Utah, USA)

Died: (17 Aug 1912) (Provo, Utah, Utah, USA)

Buried: (19 Aug 1912) (Heber Cemetery, Heber, Wasatch, Utah, USA)
Spouse
Eunice Louise Murdock m. (20 May 1880) (Salt Lake City, Salt Lake, Utah, USA)
Children:
Parents
Ephraim Knowlton Hanks b. (21 Mar 1826) (Madison, Lake, Ohio, USA)
Jane Maria Capener b. (16 Oct 1840) (Drybrook, Delaware, New York, USA)
Siblings:
William Albert Capener Hanks b. (17 Feb 1859), (Salt Lake City, Salt Lake, Utah, USA)
Alice Maria Hanks b. (15 Jan 1861), (Salt Lake City, Salt Lake, Utah, USA)
Sarah Elizabeth Hanks b. (10 Mar 1863), (Charleston, Wasatch, Utah, USA)
Ephraim Knowlton Hanks b. (18 May 1865), (Charleston, Wasatch, Utah, USA)
George Augustus Hanks b. (3 Jan 1868), (Park City, Summit, Utah, USA)
David Capener Hanks b. (5 Mar 1870), (Park City, Summit, Utah, USA)
Louisa Rebecca Hanks b. (27 Jun 1872), (Heber, Wasatch, Utah, USA)
Sketch
William Albert Capener Hanks
written by his daughter Eunice H. Cullimore
October 27, 1959

1 It is with a feeling of deep pride and reverence that I undertake this small writing to tell of my parents and my all to short life with them. They were hardy pioneering people, as children they lived in Salt Lake, and as young people in "Provo valley" as Wasatch Valley" was then known. My father was a well educated man for his time, he was Justice of the Peace, and taught school in Charleston. The building known in Charleston now as the Town Hall was the school. The men who knew him well, have told me with pride the exploits of their hunting and logging days. They were John Price, Neaf Casper, James Ritchie, William Winterton and others. One special tale: to show who the hunters of the community really were, and to play a joke on my father especially; on one expedition they had killed a bear. They tied ropes around its frozen body—sat it upright in the sleigh and went flying by the school, to the childrens delight and my father's amazement. Jokes were to be had in those days too.
My brother "Cory" knew my father as perhaps none of the others of us, he, "Cory", suffered a near fatal explosion in the year 1903, and my father was with him almost continuously. "Your father had the finest, clean mind and the most rugged body of any man I ever knew", my brother has told me many times. Sometimes it seemed difficult for him, father, to manage his affairs, he was a musician and would spend as much time with his books as he could manage. He left us all too soon. In the year of 1912 he was unable to survive a ruptured appendix. We lived too far away for adequate medical care.
My mother was the living symbol of courage—her beautiful, flashing black eyes and her lively and loving way made her beloved by all that knew her. She did not want to go to the ranch in Sweetwater County that my father had obtained in the year 1906. She knew the wild country would be not the best influence on her brood of tall, and lively sons, and there were seven. The loss of their religious life and their schooling would be too great. The schools in Lonetree or Linwoood Wyoming were one room of course, as were most of them at that time, but they were of the poorest she felt. However, of necessity, she did go, and did her best in that wild country to refine and help. We had of the few "flower beds" in the community. She was strong in her religious faith, and did her best to instill her religious principles in her family. Cory has said many times that if we knew of anything good and beautiful—it was because of her. We had no church in Wyoming at that time, but her teaching in faith and prayer have staid with me during my entire life. It was honest, humble and of great truth. She would take the money laid aside for "the bills" and pay tithing with it—and let the bills be taken care of as best they could. In sickness or trouble she went unselfishly to each and anyone who needed her. She was blessed in accordance — never having had a disease of any kind, even though she nursed all contagious. Scarlet fever was especially virulent in it's attacks in that country. My first attempts at preparing food came during her absences to care for some family in dire need. Her life seemed just one of service to others. Her voice was good, and she sang in our home, for sheer joy and in the community when they needed her.
In the year of 1913, we, my mother and three youngest brothers returned to the family home in Charleston. My young brother Clyde developed a kidney ailment, after one of his very bad attacks, my mother had been with him almost continually; she had an operation and could not survive it. She left us in February 1916. My brother Clyde passed on two years later. My brother Cory became my guardian, we just could not comprehend our loss.
The heritage they left, their dauntless spirit; and joy in the face of difficulties almost unbearable, stands as a source of courage, deep within each of us. They reared their family of ten children. The care and encouragement they gave my brother "Cory" through all of his affliction was and is, a beautiful thing; it enabled him to have the strength and great character to carry on in the face almost impossible odds. He became nationally known as a lecturer and author. He gave nearly eight thousand lectures, attended the best schools over America, traveling alone and handling his affairs himself. His record and example in the family, community and nation is one that stands as a beacon.
Nymphas Coridon's (Cory) accident was an explosion of "giant caps" a box of 12 each capable of blasting 500 lbs. It was November 2, 1903. Both hands and eyes were destroyed. This happened on Mt. Nebo near Mona, Utah. He was 21 years of age.
Death

Funeral Services of W. C. Hanks
Wm. C. Hanks, son of Ephraim Hanks and Jane M. Giles, passed away at the Provo general hospital last Saturday. Mr. Hanks was born in Salt Lake City 51 years ago and died as a result of a complication of peritonitis and appendicitis, for which he was recently operated upon.
During most of the life of this deceased he resided at Charleston but removed from there to Lone Tree, Wyoming, about seven years ago and at that place the family still resides. He is the first of a family of seven to pass away. He was the husband of Eunice Murdock, the oldest daughter of Patriarch N. C. Murdock of this place, and he is the father of ten children, all of whom survive him.
When he was taken to the hospital to be operated upon ? was considered very serious and the doctors gave little hope of his recovery.
The funeral services were held at the stake house on the 20th inst. Under the direction of the Charleston ward bishopric – The Charleston ward choir furnishing the musical numbers. The opening prayer was offered by Pres. J. C. Jensen, and the closing benediction by Geo. Price. The speakers were Wm. Daybell, Geo. Price, Patriarch John Duke, D. A. Broadbent, and Pres. J. R. Murdock.
There was a goodly attendance of the people and about 40 vehicles followed the corpse to the Heber City cemetery where interment was made.
Image Gallery
Name Directory