Walter Pyramus Read
From Hanksplace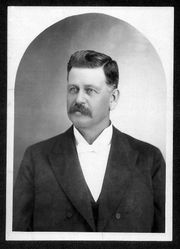 Relationship: Brother to Thisbe Quilley Read
Association:: First superintendent, vice-president and director of Salt Lake's electric street cars. Member of the Martin Handcart Company but became lost outside of Iowa and did not complete the company trek. Named after lead character of Shakespeare's comedy "Midnight Summer's Dream" as Father Read loved the classics. Sister, "Thisbe" Quilley Read, was named after the other lead character in the play.
Vitals
Born: (8 Aug 1848) (Poplar, London, Middlesex, England)

Died: (30 Aug 1918) (Salt Lake City, Salt Lake, Utah, USA)

Buried: (1 Sep 1918) (Salt Lake City Cemetery, Salt Lake City, Salt Lake, Utah, USA)
Plot: Plat B, Block 12, Lot 5, Tier W
Spouse
Martha Ann Pond m. (21 Oct 1872) (Nephi, Juab, Utah, USA)

Children:
Parents
Samuel George Read b. (28 Feb 1807) (Stepney, London, Middlesex, England}
Elizabeth Georgina Quilley b. (22 Sep 1805) (, Basing, Hampshire, England)
Siblings:
History
Walter P. Read received his early education in private schools in Salt Lake City, but as he desired to gain his own livelihood and be independent, he soon started on his business career. At the age of sixteen he entered the harness business and remained in that vocation for the ensuing sixteen years. The first six years of this period he was an employee, and throughout the latter ten years owned and controlled the business located at Nephi.
Upon the sale of his harness business, he devoted himself to railroad building and in the fall of 1879, in connection with Messrs. Grover and McCune, formed a construction company known as the Juab Contract Company which in that year successfully undertook and completed the building of the railroad line on the San Juan River, Colorado.
In the spring of 1880 the firm went to Gunnison county, Colorado, and there constructed thirty miles of the South Park Railroad. This firm was known as Grover, McCune and Read and secured the contract for the Union Pacific Railroad, and also contracted for and successfully completed ninety miles of the road from Pueblo north on the Denver and New Orleans, now known as the Denver and Fort Worth Railroad. This firm operated extensively in the Western States, and secured a contract in Montana to haul wood to the Lexington Mills at Butte City from the low lands.
In addition to the extensive interests of this successful firm, Mr. Read found opportunities for the exercise of his abilities in other fields, and in 1881 he became interested in stock raising. In that year he formed a partnership with Messrs. Alfred W. McCune and Thos. J. Scofield and engaged in the cattle business. This partnership owns an extensive stock-ranch in southern Utah comprising about six thousand acres stocked with upwards of seven hundred head of horses and cattle. The same industry and ability which he displayed in his former enterprises has made this ranch one of the most prosperous in Utah.
In 1885 Mr. Read again turned his attention to railroad building, and in Montana the firm of McCune, Kerkendall and Co. was formed in Helena. The extensive operations of this firm were managed by Mr. Read who had entire charge of its business in Montana.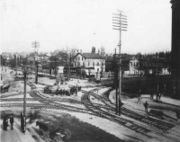 From railroad building he turned his attention in a few years to merchandising and entered into a partnership at Nephi for the purpose of conducting a general merchandise business, the firm being known as Read & Bryan. Here he remained until 1889, when he moved to Salt Lake City and took up the management of the Salt Lake City Railroad Company. When Mr. Read took up the management of this property it was a poorly equipped crude system. The cars were hauled by mule teams and the tracks extended but an inconsiderable distance. After his incumbency of the office of general manager the system made wonderful strides, both in efficiency and prosperity.
Under his direction mule power was superceded by electricity and in Salt Lake electric street cars west of Omaha. He filled the offices of superintendent, vice-president and director of this company from 1889 to 1901. The amalgamation of the Rapid Transit Company and the Salt Lake City Railroad Company was effected in 1901 under the name of the Consolidated Railway and Power Company, and after the consolidation with the Utah Light and Power Company Mr. Read became a director and superintendent of the railway service. He filled these positions until the purchase of the Utah Light and Railway Company by the Harriman system took place.
Mr. Read found time to take an active part in the political affairs of the State. He is a believer in the principles of the Democratic party and in 1876 was elected and served as sheriff of Juab county, Utah. He also had the honor of being the first city marshal of Nephi, being elected to that office in the spring of 1889, but owing to his removal to Salt Lake City to take up the management of the Salt Lake City Railroad, he resigned his office in that year.
The success of all the business enterprises in which Mr. Read has been interested and the strikingly successful career he has made in Utah are the results of his own efforts. Starting out in life at an age when most boys are still under parental guidance, self instructed and self-made, he has achieved results that mark him as one of the great captains in the industrial development of the West. A man of splendid physique, undaunted will power, coupled with the ability to learn from others and profit by their experience, no matter how limited, has made his career one of the most striking illustrations of what energy, application and industry can accomplish. Gifted with a pleasing personality and a kind and genial manner, he has become one of the best known and most popular men in the Great West.
Electric trolley cars that once brought people into the city centre were phased out in 1941.
Image Gallery
Martha Ann Pond, wife of Walter Pyramus Read. Martha's mother, Elizabeth Bessac, married Timothy Bradley Foote as her third husband and lived in Nephi, Juab, Utah. Martha met Walter in that city.

1851 UK Census, page 39, Middlesex, Chelsea South, Dist. 15 - Samuel Read, Married, age 44, clerk in docks, born Middlesex, Stepney. Daughters Clara & Alicia do not appear with family as they are found at Miss Langston's School in Hackney.
Links
Name Directory