Walter Ernest Hanks 1865
From Hanksplace
Relationship: Son of Ephraim Knowlton Hanks & Thisbe Quilley Read
Associations Bishop of the Caineville Ward for 18 years while father Ephraim Knowlton Hanks served as a patriarch of the Wayne Stake. Conductor on one of the first electric cars that was run in Salt Lake. Ran a mule car for a short time prior. Forest ranger, Wild Cat Station, Wayne County, Utah.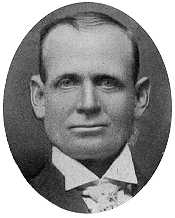 Vitals
Born: (19 Jun 1865) (Provo, Utah, Utah, USA)

Died: (17 Sep 1930) (Bicknell, Wayne, Utah, USA)

Buried: (19 Sep 1930) (Teasdale, Wayne, Utah, USA)

Spouse
Mary Ellen Stewart m. (15 Apr 1887) (Logan, Cache, Utah, USA)

Children:

Parents
Ephraim Knowlton Hanks b. (21 Mar 1826) (Madison, Lake, Ohio, USA)
Thisbe Quilley Read b. (25 Apr 1845) (Stepney, London, Middlesex, England)
Siblings:

Sketch
Hanks, Walter Ernest, Bishop and Patriarch, was born June 19, 1865, in Provo Valley, Wasatch county, Utah, the son of Ephraim K. Hanks and Thisbe Read.
He was baptized in 1874 by Joseph Snider at Parley's Park, Utah, ordained a Deacon in 1880, a Teacher in 1881, an Elder in 1883 by Ephraim K. Hanks, a Seventy April 9, 1887, by Franklin D. Richards, and a High Priest April 8, 1893, by Francis M. Lyman. In 1887 to 1888, responding to a call from the authorities of the Church, he settled at Caineville, where he presided as Bishop from 1892 to 1909. Prior to his removal to Caineville he acted as Sunday school teacher, secretary of Y. M. M. I. A. in the Teasdale Ward, Ward teacher, home missionary, etc.
In 1887 (April 15th), he married Mary E. Stewart, with whom he has had eight children.
He has resided successively in Salt Lake City, Park City, Burrville, Grass Valley, Pleasant Creek, Teasdale and Caineville. He has practically been a pioneer all his life and was with the first wagon that ran through Capital Wash in 1883.
He also ran the first electric street car that made a regular trip in Salt Lake City, in 1889.
Bro. Hanks has principally followed farming and stock-raising for a living and was for a number of years a forest ranger on the Aquarius Reserve.
In 1909 Caineville suffered severely from the effects of a flood, after which Bishop Hanks moved to Grover, Wayne County, Utah, his present residence, having been honorably released from his position as Bishop in Caineville after serving in that capacity eighteen years. For three years after this he served as Stake president of Y. M. M. I. A. in the Wayne Stake and has been a member of the Stake High Council for four years. He was also president of the High Priests' Quorum until he was ordained a Patriarch of the Wayne Stake in August, 1912, by Apostle Francis M. Lyman.
LDS Biographical Encyclopedia, Andrew Jenson, Vol. 2, p. 263
Death
A letter to David Capener Hanks
from Mary Ellen Stewart Hanks
Blog by Dan Hanks

My Dad (John Phillip Hanks) was going through some old boxes and found some buried treasure in the form of an old unused account book that we believe belonged to David Capener Hanks (son of Ephraim Knowlton Hanks and Jane Maria Capener). Inside the front cover of this book were several old letters, one of which I have scanned in and present below. The letter is addressed to C. D. Hanks, of Tetonia, Idaho (I'm not sure why it's 'C.D.' and not 'D.C.', perhaps a 'typo'):

The author of the letter is informing David of some of the events preceeding the death of David's step-brother, Walter Ernest Hanks. Walter was a son of Eph and Thisbe Quilley Read Hanks. The letter is dated 30 Sept, 1930. Walter died 17 Sept, 1930.

My transcription of the letter:
Bicknell, Utah Sept 30--1930

Dear Brother David:
I have been a long time writing you about your dear Brother Walter's death which came on the 7 Sept at 10 A.M. but Mattie told us she would send you word. He was sick two months to the day. The immediate cause was heart and kidney trouble altho he had three strokes. He didn't suffer very much until the last week. He knew he was going and talked to us, and delivered some messages that loved ones from the other side gave him. His voice was so weak that we couldn't begin to understand near all he would tell us. One message from your Father was for us all to live better lives, pay out tithes and offerings to attend our Church duties, and temple work; and oh: if you could of seen him cry and beg us to do our duties and be of service to mankind it would of left a lasting impression. His clothes Casket and funeral was all that could be desired and I feel he was satisfied. I am sending back your book dear Brother, and hope you feel alright about us coppying the Hank's names out for Temple work and feel like you had made quite a contribution to the dead to let us take the book. Hope it reaches you in good shape. Many Many thanks for the use of it. Our Pedigree goes back to Benjamin Hanks and Abigal of Malmsburry England. We haven't got back any farther yet, but are having tracing done. By some of our Great Grandfathers marriage we go into a Gifford line, which makes ours and Pres. H.J. Grants Ancestors the same. We have some noble ancestors, and I feel, and Walter was so anxious to have us all get busy and gather up all the genealogy and get the work done up. So I hope we will all be interested I hope dear Brother you can take time to fill out the sheet for your Mothers family and for your own family as I am very anxious to get them. It has been raining for the last two days. Crops are about all gathered, and threshing has begun. We all send love to you all. Please let me hear if you get the book, and send the sheets.
Your loving Sister M.E. Hanks
M. E. Hanks is Walter's wife, Mary Ellen Stewart Hanks. Mary Ellen was born in Bicknell, Utah on 20 July, 1867. She died 26 Jul, 1944. At the time of Walter's death, David was less that 18 months away from his own death on 4 Jan, 1932.
Image Gallery
Walter & Mary Ellen's Bicknell, Wayne County, Utah Home - E. Kay Hanks Collection
Links
Name Directory