Thisbe Hanks 1872
From Hanksplace
Relationship: Daughter of Ephraim Knowlton Hanks & Thisbe Quilley Read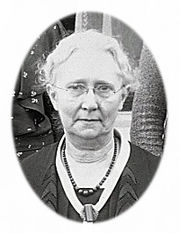 Vitals
Born: (2 Aug 1879) (Burrville, Sevier, Utah, USA)
Died: (3 Apr 1924) (Lyman, Wayne, Utah. USA}
Buried: (6 Apr 1924) (Lyman, Wayne, Utah, USA)
Spouse
Samuel Alonzo Allen m. (27 Oct 1892) (Manti, Sanpete, Utah, USA}
Children:
Parents
Ephraim Knowlton Hanks b. (21 Mar 1826) (Madison, Lake, Ohio, USA)
Thisbe Quilley Read b. (25 Apr 1845) (Stepney, London, Middlesex, England)
Siblings:
Sketch
History of Samuel and Thisbe Hanks Allen
Written by their daughter, Amy Allen White


Thisbe Hanks Allen was born 28 March 1872 at Salt Lake City, the daughter of Ephraim K and Thisbe Q Read Hanks. She was the 5 child of 12 children. When 4 years old the family moved to Parley's Park, later called Park City. They lived there until about the year 1879. They were called by Brigham Young to go south to Sevier County to help that part of the country. They lived at Burrville.
The year of 1882 the family moved to Pleasant Creek, later called Floral Ranch. There Thisbe met Samuel A Allen, whom she later married. Samuel had come from Escalante, Garfield County, and bought a farm on Carcus Creek. Now called Grover. Dan Allen, his brother and William Spencer, a brother-in-law, also bought farms there. It was first owned by Eck Keel and Will Bullard. The Allen brothers and Will Spencer bought Keel and Bullard out for $500. This amount was paid in horses and mules. Here Samuel built a three room house. This was the year of 1884 Samuel and Thisbe were married October 27, 1892 in the Manti Temple, and came to Grover to live.
When their third child was born Sam was called to fill a mission in the Southern States. He left for his mission October 2, 1896. Thisbe had 3 babies. Mattie was 3 years old October 8, Amy was 20 months old and Hazel was 3 months old.
Thisbe kept the post office, and boarded the school teacher. She rented the farm and in this way she was able to keep Sam on his mission and support her family. She never received any help from anyone except, $5.00 George Brinkerhoff gave her. And Sam's mother gave him $5.00. Sam was gone 2 years returning 2 October 1898.
The first boy, Samuel Fahey Allen was born June 24, 1899. In February 1900 Sam traded his place at Grover to Deseret Hickman for a farm and orchard at Caineville. This was the place where Thisbe's people were living. Her brother Walter E. Hanks was the Bishop of the ward. And her mother lived just 1 block away. Their second son Ruben, was born here on March 3, 1902. On July 23, 1903 Thisbe's mother passed away. On February 23, 1904 Ethan Arthur (Pete) was born. Thisbe took over the post office, soon after moving to Caineville. This helped to keep their fast growing family. There wasn't much sale for fresh fruit at that time, so it was dried and sold. This made lots of hard work, especially for the women folks.
After the death of Thisbe's mother the family became discontented so Sam was on the trade again. He traded one place he had to Dan Cook. And the other place he traded to Alford Ostberg for a ranch 2 1/2 miles from Teasdale. In the Spring of 1906 Sam went up to this ranch to plant the crops. He took Mattie to cook for him and Sammy to help him.
On May 25, 1906 Walter E. (Ted) was born. Thisbe lived at Caineville until her baby was 2 months old, then she moved to the ranch. This proved to be a bad move as they were quite a distance from town and it was hard for Thisbe to go with so many small children. Sam was put in the bishopric being the first counselor to Bishop William Heaps. The children had to walk or ride horses to school. The snow got quite deep during the winter. On April 17, 1908, Paul K, the 5th son, was born. Thisbe's health was poor so Sam was trying to get a place in town where he could move her and the children.
In the fall of 1909 he made a trade with Jode Allen for a place in Lyman - (the Jash Cook Place). The family moved here in September. Sam gathered his crop and moved the cattle and live stock. That winter was a bad one. Mattie had typhoid fever and almost died. Thisbe was in poor health.
On April 5, 1910 her 6th boy Ephraim Hanks (Rex) was born. Lloyd Raymond was born two years later March 3, 1912.
June 19, 1912 Thisbe was asked to be President of the Relief Society for the Lyman Ward. This office she held until her death on April 3, 1924.
Thisbe's 11th child was born January 16, 1914. She was called Ruth. The first girl after 7 boys. An incident which happened while Sam was living on the ranch between Torrey and Teasdale. He and Sammy, Jr. were living there alone before the family moved from Caineville. The rats were so bad in the house. So Sam undertook to poison them. He strychnined some bread and put it on the loft of the house. During the night a rat dragged the bread down and dropped it in a pan of milk. Next morning Sam, thinking perhaps Sammy had done it, removed the bread which was covered with cream and ate it. He went out and started his chores and became very sick. He then thought of the bread he had poisoned, went back to look for it and found it gone. Then he knew he had been poisoned. It was only through his faith and prayers that his life was saved.
Another time after this he was dressing one morning and just moved his pillow, and there was a large rattle snake curled under it. He finished dressing and got the shovel and carried the snake still curled up over across the river and turned it loose, saying it did not harm me, so I will not harm it.
Sam was called to High Council soon after moving to Lyman. This position he held until just before he died. After Thisbe died, he spent most of his time working in the Manti Temple. He died of heart trouble November 26, 1935.
- Teton Hanks Jackman Collection, Page 383
Image Gallery
Thisbe Hanks Allen Marker, Lyman, Wayne, Utah - photo by Sherry Smith
Links
Name Directory