Teasdale
From Hanksplace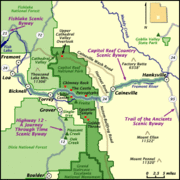 In 1882 the first settlers came to Teasdale, formerly called Bullberry. In 1885 land was purchased by the L.D.S. Church for $9.99 upon which they built the first public building in the settlement. George Coleman was the first presiding elder and later bishop.
Teasdale is a small town located in a circular valley, surrounded on all sides by hills and rocky ridges with the lofty Boulder Mountain in the background to the south. Entering from the west, Bullberry Creek flows through the middle of the town, furnishing water to irrigate the lots and part of the fields.
Until about 1878 this stream, lined with gray-green brush, bearing in autumn bright, red berries, plunged unchallenged on its way to the Fremont River. The Bullberry settlement was named Teasdale in honor of Apostle George Teasdale.
Name Directory