Sweetwater
From Hanksplace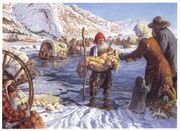 The Sweetwater River is a tributary of the North Platte River, in the U.S. state of Wyoming. It rises in southwestern Fremont County, at the Continental Divide near South Pass, on the southern end of the Wind River Range. It flows ENE along the north side of the Antelope Hills, then ESE, through Fremont County, past Jeffrey City, between the Granite Mountains to the north and the Green Mountains to the south, through cattle-raising areas. In southern Natrona County, it passes Devil's Gate and Independence Rock, and empties into the North Platte as the Sweetwater arm of Pathfinder Reservoir.
Links
Productions
Mormon Handcart Production - A theatrical re-enactment, dedicated to the Martin and Willie Handcart Companies of 1856 and their Rescuers, both past and present.
A PBS Documentary Chronicling the Westward Migration of the Willie and Martin Handcart Companies of 1856. Sweetwater Rescue is perhaps the most untold hardship and human sacrifice story in all of American western history. In this epic documentary the lives and sacrifices of hundreds of men and women will be told for the first time to a national PBS audience - Norman Bosworth & Lee Groberg
Sweetwater Rescue - From 1856 to 1860, ten handcart companies traveled to what they considered Zion. Eight crossed the plains successfully. Two—the Willie and Martin Companies—met with a wintry disaster in 1856, as did the Hunt and Hodgett Wagon Trains trailing behind them. The rescuers from the Salt Lake Valley faced the same horrific snows.
Name Directory