Sidney Alvarus Hanks 1875
From Hanksplace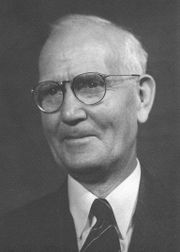 Relationship: Son of Ephraim Knowlton Hanks & Thisbe Quilley Read
Association: Authored the books, Scouting for the Mormons on the Great Frontier, The Tempered Wind and Time of Ripening
Vitals
Born: (4 Apr 1875) (Parley's Park, Summit, Utah, USA)

Died: (1 Apr 1949) (Los Angeles, Los Angeles, California, USA)

Buried: (4 Apr 1949) (Rose Hill Memorial Park, Whittier, Los Angeles, California, USA)
Spouse
Martha Elizabeth Huber m. (21 May 1902) (Salt Lake City, Salt Lake, Utah, USA)
Children:
Parents
Ephraim Knowlton Hanks b. (21 Mar 1826) (Madison, Lake, Ohio, USA)
Thisbe Quilley Read b. (25 Apr 1845) (Stepney, London, Middlesex, England)
Siblings:
Sketch
HANKS, Sidney Alvarus, Patriarch to the Pasadena Stake, born April 4, 1875, in Parley's Park, Summit, Utah. Father, Ephraim Knowlton Hanks, born March 21, 1826 in Madison, Lake, Ohio; came west with Mormon Battalion in 1846, thence to Utah in 1847, gave major portion of adult life to missionary work and was ordained a patriarch before his death. Mother, Thisbe Quilley Read, born April 26, 1846, in London, England; walked across the plains from Florence, Nebraska to Salt Lake City in 1856 pushing a handcart all the way.
At the age of five years, his father's family was called by the president of the church to move south some two hundred miles and help colonize new settlements. The family was loaded into a large prairie schooner, drawn by four yoke of oxen, and wended their way by slow tedious marches to a new wilderness, but soon were located in a newly built log cabin.
His early schooling was received at home under the tutorship of an older sister; she was so thorough in her instructions that when he had an opportunity to attend school he finished grade school in one winter at Bicknell. Later spent one year at Brigham Young University (then Academy) at Provo.
When the Wayne Stake was organized he was chosen president of the Elder's Quorum; was later made one of the seven presidents of seventies. Also served as counselor in the Sunday School Superintendency of Wayne Stake. Filled a mission to the Eastern States, 1899-1901, and served as president of the West Pennsylvania Conference. Returning from his mission he remained in Salt Lake City for two years where he worked on the city street cars. Here he married Martha Elizabeth Huber whom he had met while attending school in Provo, and married her in the Salt Lake Temple, May 21, 1902.
Soon after marriage moved to Hayden, Idaho on a 160 acre farm. Was offered a position with the government as a forest ranger, so the family moved to Kilgore, Idaho, where they also ran a country store. Here, he was a counselor in the bishopric for several years, also scout master for the first troop in that valley. Later moved to Salt Lake City where the children might attend high school. In the fall of 1927, came to California to visit oldest son and recuperate in health. After a few months sent for the family and made a home in Monrovia where he started to work for the Monrovia School Board which position he held until his death.
Until 19_7, Monrovia was included in the Baldwin Park Ward where he was counselor to Bishop Horace Harlan. With the organization of the San Bernadino Stake, he was ordained patriarch to that stake by President Heber J. Grant. When the Pasadena Stake was organized in 1939 it embraced Monrovia and he was called to be Patriarch over this stake. He gave hundreds of blessings to the saints of these two stakes. He was a man of humble spirit, of undaunted faith, and possessed of a firm conviction and testimony of the restored gospel of Jesus Christ.
He died April 1, 1949.
- Descendants Of Ephraim Knowlton Hanks, Compiled by Golden Leone and Teton Hanks Jackman.
Death
Coast Funeral Held For Patriarch, 74
Sidney A. Hanks, 74, former Salt Lake resident and patriarch of the Pasadena Stake, Church of Jesus Christ of Latter-day Saints, died Friday in Los Angeles.
Funeral services were held Monday in Monrovia, Calif.
Mr. Hanks was superintendent of Monrovia Schools and was slated to be retired after 20 years of service the day he died.
Born in Park City, April 4, 1875, he was a son of Ephraim K. and Thisbe Read Hanks.
Active in the Church of Jesus Christ of Latter-day Saints, he had fulfilled a mission to the Eastern States in 1897. He had attended Emigration Ward in Salt Lake City.
On May 21, 1901, he was married to Martha Huber in the Salt Lake Temple.
Surviving are his widow, seven sons and daughters: Mrs. Blanche Hendricks, Mrs. Martha Remington and Mrs. Ruby Fuller, all of Parker, Ida.; Mrs. Mae Jensen, Logan; Mrs. Elda Boice, Samuel and Sidney Hanks, Los Angeles; a brother and three sisters, 26 grandchildren, and two great-grandchildren.
- Sidney Alvarus Hanks 1875-1949; Utah; Deseret News; 5 April 1949, p 10a.
Image Gallery
Sidney Alva Hanks engraving, Floral Ranch - courtesy of Dave Hanks
Links
Books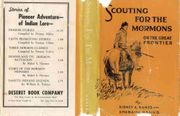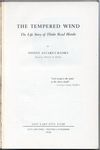 Scouting for the Mormons on the Great Frontier - Authored by Sidney A. Hanks and E. Kay Hanks
The Tempered Wind - Authored by Sidney A. Hanks. A biography of Thisbe Quilley Read. Hard copy available in the Special Collections of the BYU Harold B. Lee Library. Call number BX 8670.07 .H194.
Tempered Wind Authored by Sidney A. Hanks (PDF format, 3.5M, contributed by Doug Allen)
Time of Ripening - The Life of Sidney Alvarus Hanks. First five chapters is written about his young years on the Floral Ranch with his parents, Eph and Thisbe Hanks - Authored by Sidney A. Hanks
Time of Ripening - (PDF format, transcribed by Sherry Smith with permission, Alva Remington)
Name Directory