Sarah Jane Morgan
From Hanksplace
Association: Member of the Martin Handcart Company, wife of John Rodwell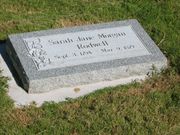 Vitals
Born: (3 Sep 1796) (, Barking, Essex, England)

Died: (7 Mar 1879) (Salt Lake City, Salt Lake, Utah, USA)
Buried: (9 Mar 1879) (Salt Lake City Cemetery, Salt Lake City, Salt Lake, Utah, USA)
Plot: Plat J, Block 7, Lot 14, tier W1/2
Spouse
John Rodwell m. (28 Oct 1821) (, Faversham, Kent, England)
Children:
Parents
James Morgan b. (Abt 1770) (, of Barking, Essex, England)
Anna Hopperton b. (Abt 1774)
Image Gallery
Links
Productions
Mormon Handcart Production - A theatrical re-enactment, dedicated to the Martin and Willie Handcart Companies of 1856 and their Rescuers, both past and present.
Sweetwater Rescue - From 1856 to 1860, ten handcart companies traveled to what they considered Zion. Eight crossed the plains successfully. Two—the Willie and Martin Companies—met with a wintry disaster in 1856, as did the Hunt and Hodgett Wagon Trains trailing behind them. The rescuers from the Salt Lake Valley faced the same horrific snows.
Name Directory