Samuel Milford Read
From Hanksplace
Relationship: Brother to Thisbe Quilley Read
Assocation: Member of the Martin Handcart Company but brother, Walter Pyramus Read, became lost outside of Iowa and did not complete the company trek. Father Samuel George Read and Samuel Milford Read returned to Iowa to locate Walter.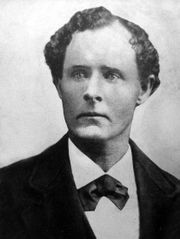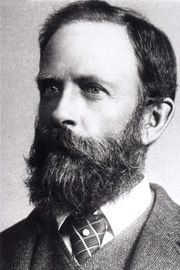 Vitals
Born: (13 Oct 1841) (Bethnal Green, London, Middlesex, England)

Died: (21 Oct 1904) (Nephi, Juab, Utah, USA)

Buried: (24 Oct 1904) (Nephi City Cemetery, Nephi, Juab, Utah, USA)
Plot: NC-B-2-2-19
Spouse
Mary Gardner Reid m. (18 Nov 1872) (Salt Lake City, Salt Lake, Utah, USA)

Children:
Samuel Milford Read b. (24 Jan 1874) (Nephi, Juab, Utah, USA)
Margarette Read b. (4 Oct 1875) (Nephi, Juab, Utah, USA)
George William Read b. (27 Oct 1877) (Nephi, Juab, Utah, USA)
Spouse
Annie Elizabeth Wilkey m. (24 Mar 1892) (Nephi, Juab, Utah, USA)
Children:
Elizabeth Annie Read b. (7 May 1893) (Nephi, Juab, Utah, USA)
Fanny Alicia Read b. (4 Oct 1896) (Nephi, Juab, Utah, USA)
Parents
Samuel George Read b. (28 Feb 1807) (Stepney, London, Middlesex, England)
Elizabeth Georgina Quilley b. (22 Sep 1805) (, Basing, Hampshire, England)
Siblings:
Sketch
Samuel Milford Read
He was a man who never achieved fame or fortune and was very unassuming when he was provoked, but as his granddaughter all I knew was a wonderful, kind and loving grandfather. I remember the summer before he died I was in Nephi and followed him around like a little puppy. I also remember when my mother died how kind and sweet he was to my brother and I. I remember him telling me, a five-year-old, that my mother had gone to heaven.
Samuel Milford Read, son of Samuel George and Elizabeth Georginia Quilley Read, was born on October 13, 1841, at Read Cottage, Twig Folly, Bethanal Green, London, England. He was baptized a member of the Church of Jesus Christ of Latter-day Saints on January 26, 1856, by John Rodwell and confirmed by Elder Cottrell. This is from the Limehouse Branch records in London.
There isn't a known record of the early life of the children of the Read family. All of the Read family, except the oldest daughter, Clara, emigrated to America. They left Liverpool, England, on May 25, 1856, and arrived in Boston on June 26, 1856. The ship they came on was called the Horizon. There were 836 people on board, 108 were children. Samuel was one of these children, being 14 years old at this time. There is a sailing list at the L.D.S. Church Historian's Office along with a letter written by Edward Martin, president of the company, to Willard Richards giving an account of the trip across the Atlantic.
There was an article published on March 30, 1913, in the Salt Lake Tribune about the Martin Handcart Company. It said that they left Boston "on the cars". I imagine this is what they called the railway at that time. They crossed the Mississippi River in barges. They arrived at a place called Keg Creek, a few miles east of Council Bluffs, Iowa. The family had travelled this far when the youngest son, Walter, was lured away from the company by two men who promised Walter a pony, lots of money and some land.
The Martin Company had to go on for it was getting late in the season, so Samuel's mother and two sisters, Alicia and Thisbe, went on with the handcarts to Salt Lake City while Mr. Read and Samuel stayed there to find Walter, who was only eight years old at the time. It took them three months to locate him as he had been taken care of by several families. Mr. Read then went on to the Salt Lake Valley in 1859.
During this three months they were looking for Walter, Mrs. Read returned to Iowa with her daughter Thisbe (Alicia stayed in Salt Lake City), where they remained until 1861. At this time, Mrs. Read, her daughter Thisbe, and son Walter, came to the Salt Lake Valley by ox team in the Captain Ancel P. Harmon Company. Samuel, a young man of 20 years, stayed in Iowa.
According to what Samuel's sister, Alicia, told me Samuel came to Utah in 1863. He must have walked a long way because Aunt Alicia said he had paper in his shoes to keep out the wet weather. She also said he went to see his father upon arrival and his father said, "You are not my son", but she said I knew my brother when I saw him. You see there were four years that he had not seen his father and a lot can change a young man in that time. Samuel's father was a very particular person about his way of dressing and to see a man in Samuel's condition was quite a shock.
Mrs. Read and the children lived in Salt Lake City for a few years, and then she and her sons, Walter and Samuel, went to live in Nephi. There is no date as to when they arrived there. Walter started his business career at 16 as a harness maker. Samuel worked with this brother for several years.
Here is an account of Samuel's activities from an old-timer in Nephi as was given to Samuel's daughter, Elizabeth. This man said that he remembered her father quite well. He said Samuel was about 5 feet, 8 inches tall, weighing about 165 pounds, was of a dark complexion, and wore a beard and a mustache. (I remember that he had blue eyes, though, because they say my mother had the Read eyes, and she had beautiful eyes.) Samuel had lots of horses. He did freighting from Mona, just north of Nephi, to as far south as Milford. Then he sold his horses and bought farm land. At his death he owned 360 acres of dry wheat land which was known as the Levan Ridge. He also worked on the railroad building tracks and loved prospecting for new mines.
On November 18, 1872, he married Mary Gardner Reid, in the Endowment House in Salt Lake City. To this union three children were born: Samuel Milford Read, Jr., Margaret Read, and George William Read. Mary died on October 1, 1879, leaving him three small children to raise. On March 24, 1892, he married Annie Wilkey. To this marriage two daughters, Elizabeth and Alicia, were born.
Being the oldest grandchild alive today I would like to add a little personal touch about this wonderful man. He never was rich in worldly goods, but he was kind and people loved him. I remember how kind he was to my brother and I when my mother, his oldest daughter, Margaret, died. After my mother's death, my father took me on a train to Nephi, and how I followed my grandfather around the farm watching him dig new little potatoes. Later, Aunt Annie (that was what we called her) cooked them and served them with creamed gravy flavored with ham. To a six-year-old, this was a real treat to have been with her grandfather.
On October 21, 1904, just six months after my mother's death, he was called back to his Heavenly Father. He was just 63. He had lived a good and useful life. His funeral was largely attended by many relatives and friends. This was on October 24, 1904, in the Relief Society hall at Nephi, Utah.
This is the history of my grandfather as I have compiled and written it.
Rhea Platt Nielsen, Oldest Granddaughter
Age 80 years
Compiled July, 1978
---

Samuel Milford Read was born 13 October 1841, at Bethnal Green, London, Middlesex, England, 340 Read Cottage, Twig Folly--from a birth certificate from Somerset House in London, England. His father was Samuel George Read, and his mother was Elizabeth Georgina Quilley. He married Mary Gardner Reid, 18 November 1872, in the Endowment House in Salt Lake City. She died 1 October 1879, at Nephi, Utah. He also married Annie Wilkie, 24 March 1892, at Nephi, Utah. She died 25 October 1937. Samuel died 21 October 1904, at Nephi.
Samuel Milford was born in Bethmal Green, a suburb of London. This is a part of London on the Thames River. There is a great deal of shipping in this area. He joined the Mormon church with the rest of his family in 1854 and 1856. The Reads left England on the ship Horizon, 21 May 1856, Captain Edward Martin's company, landing in Boston, Massachusetts, and going from there to Iowa City, Iowa. Samuel arrived in Salt Lake City in 1862.
As long as I'm putting a few personal thoughts in what I am writing I might as well tell about my grandfather, Samuel Milford Read, whom I loved dearly as most grandchildren love their grandparents. I remember after my mother died he was so sweet to my brother and I. I remember how I used to follow him around when I went to Nephi.
He was a farmer, a miner, and would freight cargo to the different towns in the vicinity of Nephi. This would take him away from his home many times. I have a letter written by him to my grandmother of how he disliked being away so much. She died 1 October 1879, leaving three small children, Samuel, Milford Jr., Margaret, my mother, and George William. He married Annie Wilkie, 24 March 1892. They had two daughters, Elizabeth and Alicia.
This was found in some of Nephi's records:
Samuel M. Read, died after a very brief illness with pneumonia. He was one of Nephi's old time and most highly respected citizens. He passed away at his home on the 21st of October 1904. The deceased was born in London on the 13th day of October, 1841, and came to Utah in 1865. The funeral took place on the 24th at the Relief Hall and was largely attended. A number of relatives were present from abroad, among who was his brother, W. P. Read, Superintendent of Salt Lake Railway.
*From the Samuel Milford Read Family Records
---

Dec. 6, 1959
Nephi, Utah

Dear Mrs. Tolley:
I am so glad I was able to help you a little. I wish I could find out more about my father's (Samuel M. Read)'s boyhood and youth. I have not been able to find out much about him although I found out a little the other day when I went to see Mr. Charles Stephensen to see if he remembered anything about your grandfather. He knew both my father and your grand father Rodwell very well. This is what he told me about your grandfather.
He said your grandfather built the house where Frank Tidwell lives. He was married to my grandmother. She and Mrs. Gadd were the only doctors Nephi had in those days. They were called midwives and helped many babies come into this world and helped the sick. Mr. Stephensen said he could remember my grandmother coming to his house when they had sickness.
Mr. Stephensen said your grandfather was called "The Ray of Sunshine." He was always full of fun the center of entertainment when in a crowd.
He helped the farmers with their work. He was a great man to entertain the people around him. He was neat in his clothes and appearance and always close shaven.
He weighed between 160 175 lbs. He was lively on his feet. Mr. Stephensen sat up with him when he died and had to change the cloth dipped in ice water to put on his face (that is the way they took care of the dead in those days.) He said he had to see that mice didn't come in the room"
We didn't know what he died of, but said pneumonia took a lot of people in those days. Lots of times they didn't know the names of the diseases people had.
This little bit of information might help you in your grandfather's history.
I hope we will meet some time and have a nice talk about these folks who means so much to us. Love to you all and Merry Christmas.
Elizabeth Read Black

From correspondence of Patty Tolley to Sherry Smith - In the process, I ran across the letter from Keith Black's mother put where it belonged, imagine that!!
Image Gallery
1851 UK Census, page 39, Middlesex, Chelsea South, Dist. 15 - Samuel Read, Married, age 44, clerk in docks, born Middlesex, Stepney. Daughters Clara & Alicia do not appear with family as they are found at Miss Langston's School in Hackney.
Links
Name Directory