Retta Arthella Hanks
From Hanksplace
Relationship: Granddaughter of Ephraim Knowlton Hanks & Thisbe Quilley Read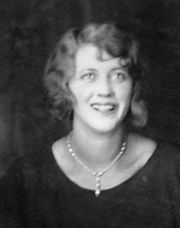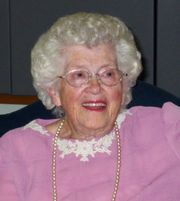 Vitals
Born: (22 Apr 1907) (Caineville, Wayne, Utah, USA)

Died: (13 Mar 2007) (Springville, Utah, Utah, USA)
Buried: (17 Mar 2007) (Sunset View Mausoleum, El Cerrito, Contra Costa, California, USA)
Spouse
Ernest George McKinley Aschmann m. (9 Jul 1932) (Sparks, Washoe, Nevada, USA)
Spouse
James Pilich Gilbert m. (7 Jun 1941) (Reno, Washington, Nevada, USA)
Children:
Larry Kay Gilbert b. (14 Mar 1942)
Parents
Walter Ernest Hanks b. (19 Jun 1865) (Provo, Utah, Utah, USA)
Mary Ellen Stewart b. (20 Jul 1867) (Beaver, Beaver, Utah, USA)
Siblings:

Obituary
Retta Gilbert, age 99, one month short of her 100th birthday, passed away on Tuesday, March 13, 2007 at the Utah Valley Regional Medical Center in Provo, Utah. She passed surrounded by family members, never losing her sense of humor or her positive attitude during those last few difficult days.
Retta was born in Caineville, Wayne County, Utah, the youngest of eight children born to Walter and Mary Ellen Hanks, both pioneers before the railroad came to Utah in 1869. Her grandmother, Thisbe Read, was 14 (sic) years old when she crossed the plains with her family accompanying the ill-fated Martin Handcart Company. Her grandfather, Ephraim K. Hanks, was one of the rescuers to their handcart group and later married Thisbe.
Retta served a mission for the LDS church in the Northern States (Indiana, Ohio) in 1828-30. She was given permission to visit the boyhood home of her grandfather Hanks before finishing her mission. The numbered certificate on her mission call was 2,403 and signed by Heber J. Grant.
Upon her return, she moved to the San Francisco Bay area where she married and raised four children, being widowed twice. In 2001 her family felt it was her best interest to move her to Springville to live with her daughter.
Retta lived a lifetime of service and dedication to the Lord. Her church service included teaching and serving as a stake missionary for 12 continuous years. With the dedication of the Oakland Temple, she served over 37 years there until her return to Utah.
She was the oldest member of the Camp Springville Daughters of the Utah Pioneers and was a strong advocate of keeping the pioneers memory alive through her love of retelling their faith-filled stories. She was a member of the Springville 7th Ward, Springville Stake.
There will be a viewing on Thursday, March 15, from 6 to 8 p.m. in the Relief Society room of the Springville 7th Ward, 1781 E. 800 South, Springville. She will be taken to the Bay Area in California for her funeral on Saturday and for burial in the Sunset View Mausoleum in El Cerrito, California, along the side of her husband Jim.
Links
Image Gallery
Notes
1While serving in the Ohio area as a missionary for the Church of Jesus Christ of Latter-day Saints. Retta stayed at the home of Fred & Carrie Hanks on the original homestead property for a night. She took this photograph. Fred & Carrie were the last Hanks family members to live on the land before it was sold in 1932.
Name Directory