Raymond Elijah Hanks
From Hanksplace
Relationship: Son of Ephraim Knowlton Hanks & Thisbe Quilley Read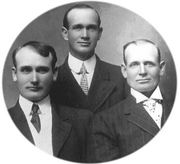 Vitals
Spouse
None
Parents
Ephraim Knowlton Hanks b. (21 Mar 1826) (Madison, Lake, Ohio, USA)
Thisbe Quilley Read b. (25 Apr 1845) (Stepney, London, Middlesex, England)
Siblings
Sketch
Raymond was born 24 Aug. 1877, at Parley's Park, Summit, Utah. He is the son of Ephraim and Thisbe Read Hanks. He was born just a short time before this couple went to Burrville. He went to grade school in Caineville, Utah, then spent two years at Ephraim, Utah. He attended the Brigham Young University. He also attended the University of Utah and stayed with his sister Amy and John George Giles the while, he was earning his major in education and graduation from this University.
He went on a mission to the Western States and had his headquarters at Portland Oregon. He taught school after returning.
He was a fine looking fellow, well built and weighed around 200 lbs. The girls all admired him but he was never married. He was living with his sister, Amy again when he got the typhoid fever. The Doctor told Amy that he must stay in bed. She went out to the St. Marks Hospital where he was and found him sitting on his bed, tying up his shoes. When he heard the Doctor's orders he raised his arm and said, "I am not sick, just look at this strength." She finally got him back into bed but he died the next day.
Two of his girl friends thought so much of him that they wanted to be sealed to him as his wives. We find no record of such a sealing.
He is buried in the Salt Lake City Cemetery his death date was 3 Sept. 1910.
The following is found on a microfilm in the genealogical library, Salt Lake City, Utah:
Raymond Elijah Hanks speaks in Sacrament Meeting held in the Stringham Hall, Sept. 16, 1906 with Bishop Geo. Brinkerhoff presiding. Quote: "It is not a good plan to depreciate the religion of others." He gave many beautiful thoughts illustrating the workings of God's will and showing how God moves in a mysterious was his wonders to perform. –Mary W. Stringham, Clerk.
- Descendants Of Ephraim Knowlton Hanks, Compiled by Golden Leone and Teton Hanks Jackman
Image Gallery
Name Directory