Parley's Park
From Hanksplace
The proving of Little Cottonwood mines brought an influx of old miner prospectors from neighboring states, so that prospecting in the Wasatch Mountains soon overflowed from the original locations into the gulches and over divides. In 1869 many prospectors started searching the mountains surrounding what was then known as Parley's Park and which was to become the Park City mining district. Rufus Walker and Ephraim Hanks were among the first prospectors to have their location notices recorded in the Park City District in the summer of 1869.
Treasures of Pioneer History — Vol. 1, p. 170
Long before Park City Utah became a world class mountain resort and venue for the 2002 Olympic Winter Games, it was famous as a silver mining town, and boasts a lively and colorful past. Founded by prospectors in the late 1860's, Park City continued to mine silver until the early 1970's. The mining company, Park City Consolidated Mines, started the ski business in 1963, when they built the first lifts on what was then called Treasure Mountain. The Park City Utah area now has three world class resorts: Park City Mountain Resort, Deer Valley Resort, and the Canyons Resort.
Silver was discovered in the mountains of Park City Utah in 1868 and soon thousands of miners arrived seeking their fortunes. At one time there were as many as 300 mines in operation at Park City. Lead, copper, zinc and gold were also mined here. The rise and fall of fortunes was an often repeated story in Park City Utah. Mining prices started to decline during the Great Depression in 1929. The last year of any mining activity in Park City was 1982.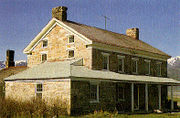 Before the miners came to Park City Utah, the area north of the present city was colonized by Mormon settlers. In 1848, Mormon leader Brigham Young sent Parley P. Pratt to see if this valley was suitable for colonizing. Pratt discovered a large open meadow that was park-like. The area was soon home to brothers Samuel and Chester Snyder and their families. Both men were polygamists and soon 150 people were living in the community of Snyderville. In 1872, their brother George Snyder brought his fifth wife, Rhoda, and their three children from Wanship and settled in this mountain valley five miles to the south. George and his family built a two-room home near what is now the corner of Park and Heber Avenues, with lumber from the sawmill in Snyderville. This high valley had been known by different names, including Upper Kimball's and Upper Parley's, until 1872 when the Snyders raised a flag and proclaimed that the new community should be know as Parley's Park City.
In 1862, federal troops from California were stationed in Utah to keep an eye on the Mormons, who the Union government thought might side with the confederacy. Idle troops went prospecting in the mountains above Salt Lake City and discovered silver at Park City. The town was first called Parley's Park, but changed to Park City in 1872. The local silver mines prove to be very rich, and mark the start of boom times for Park City. Unlike other silver boom towns, Park City was able to weather the 1893 silver crash. Mining remained an important industry into the 1950's. The last mine in the area ceased operations in 1978.
Links
Name Directory