Nymphas Coridon Hanks
From Hanksplace
Relationship: Grandson of Ephraim Knowlton Hanks & Jane Maria Capener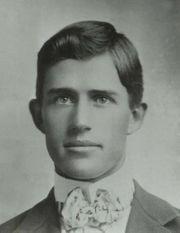 Association: In 1903, a month before the Wright Brothers made their first historic flight, Cory Hanks was a 21-year-old college student in love. To earn tuition, he was working in a gold mine nestled in Central Utah's snow-capped mountains and sparkling streams he loved so much.
At noon, Saturday, November 14, Cory picked up a box of blasting caps he had been drying in the sun. In one furious blast, the devil dynamite ripped off his hands and tore out his eyes.
Cory's story leaves one inspired and awestruck, with heart soaring and soul resolving to emulate Cory Hanks's triumph over tragedy.
Vitals
Born: (3 Nov 1882) (Charleston, Wasatch, Utah, USA)

Died: (26 Jan 1955) ( , Wasatch, Utah, USA)
Buried: ( ) (Heber Cemetery, Heber, Wasatch, Utah, USA)
Spouse
Mary Elizabeth Pedigo m. (1919)
Children: None
Parents
William Albert Capener Hanks b. (17 Feb 1859) (Salt Lake City, Salt Lake, Utah, USA)
Eunice Louise Murdock b. (27 May 1863) (Salt Lake City, Salt Lake, Utah, USA)
Siblings:
William Murdock Hanks b. (1 Dec 1880) (Charleston, Wasatch, Utah, USA)
Nymphas Coridon Hanks b. (3 Nov 1882) (Charleston, Wasatch, Utah, USA)
Hattie Josephine Hanks b. (29 Nov 1885) (Charleston, Wasatch, Utah, USA)
Ephraim Fredrick Hanks b. (7 Sep 1887) (Charleston, Wasatch, Utah, USA)
Esther Mariah Hanks b. (16 Oct 1889) (Charleston, Wasatch, Utah, USA)
Alva Murdock Hanks b. (25 Jan 1891) (Charleston, Wasatch, Utah, USA)
Joseph Edwin Hanks b. (13 Dec 1894) (Charleston, Wasatch, Utah, USA)
Reed Hamilton Hanks b. (23 Jan 1896) (Charleston, Wasatch, Utah, USA)
Charles Clyde Hanks b. (5 Sep 1900) (Charleston, Wasatch, Utah, USA)
Eunice Elissadore Hanks b. (10 Feb 1904) (Charleston, Wasatch, Utah, USA)
Documents
Links
Sketch
Cory Hanks.--From the writings of Professor H. R. Merrill comes this brief history of the life of Nymphas Coridon Hanks--Cory Hanks as he is called up and down his own state where he is known and loved. In the fall of 1903, Cory Hanks was a youthful, vigorous miner to whom the world looked unusually beautiful. He and his friend were working a mine on the western slope of Mt. Nebo, thirty miles southwest of Provo.
One early November morning he walked from his cabin to a point near a huge rock, where he took in his hands a box containing XXX California giant-powder caps which had been standing directly in the hot November sunshine. The box was hot, and as he held it between his two strong hands it shook slightly, and a roar rocked the canyon as the caps exploded; each of the hundred caps being guaranteed to exert power of 300 pounds. In other words, thirty thousand pounds, or fifteen tons of power were suddenly turned loose. Hanks was thrown back fifteen to twenty feet, but was not knocked unconscious. Both hands were blown off and his eyes were shattered. In his book, "Up From the Hills," he describes his own experiences.
"I found myself lying on the rocks, about fifteen feet from where the explosion occurred. I immediately rolled over and stood up, sane, calm and collected. My hands were gone, my eyes were blind. Darkness loomed. The blood streamed. Where my left hand should have been, sharp bones protruded as I raised it to my face. The wreck of my right hand was even worse, mashed like sausage. I was not in extreme pain. My face was smarting as if I had been hit with a handful of gravel and my clothes were torn and burned; in fact, most of them were gone. My body was bruised and cut, and flying particles of copper had played havoc with my eyes. My partner wept and beat his head.
"From that minute on, down down I sped, worse and worse until it seemed that I would die. It began with a walk up the trail to the cabin door. The seat on the bed was a welcome place; the fire was made by my companion and the examination began."
The long night of waiting in the little cabin, the long trip down the canyon in a wagon, the railroad ride the following day to the hospital and the long struggle after the operation. Blind and without hands this man set out to build a new life. It was difficult and trying. During his years of blindness he has delivered to young and old 5,654 lectures in all parts of the United States, Canada, Mexico, and the Hawaiian Islands. He has crossed the continent 34 times, always revealing the silver lining, never the dark clouds which must, in spite of him, hover thick and black at times.
He is a grandson of Ephraim Hanks, famous in the annals of the Utah pioneers and a cousin of Nancy Hanks, mother of Abraham Lincoln, and from his grandfather, Nymphas Murdock, he received his first given name along with much of the Murdock grit. His acceptance of his fate, his determination, his fine optimism, his keen appreciation of friendships, have made him one of the most notable and beloved men of the State of Utah.
Heart Throbs of the West, Kate B. Carter, Vol. 10, p. 383
Death
Seizure Fatal To Blind Utah Author
N. C. (Corey) Hanks, 72, blind lecturer and author, died at home here Wednesday [26 Jan 1955] at 11:20 p.m. of a heart ailment suffered several hours earlier.
Born Nov. 3, 1882, Charleston, [Utah] Mr. Hanks was a son of William C. and Louise Murdock Hanks. After losing his hands and eyesight at 21 in a blasting cap accident, Mr. Hanks studied under the direction of Byron W. King for seven years. He memorized more than 40,000 words from classical literature.
Mr. Hanks attended King's School of Oratory at Pittsburgh, Pa., one year; Stanford University, Palo Alto, Calif., four years; Harvard University, two years and a summer session at Columbia University.
He earned the $10,000 required for his education by lecturing and writing.
He resided in Wasatch County his entire life. He gave 6,670 lectures in the United States, Canada, Cuba and the Hawaiian Islands, and made 75 transcontinental trips, mostly alone.
He was author of several books, including "Up From the Hills," "Men of the Rockies," and others.
In 1919 he married Mary Elizabeth [Pedigo] Shive. She died six years later [1926].
Survivors include six sisters and brothers: William C., Kirby, Ore.; Mrs. Hattie Marchant, Burley, Idaho; Joseph E., Manila, Wyo.; Mrs. Esther M. Fowlke, Orem; Reed H., McKinnon, Wyo.; Mrs. Eunice H. Cullimore, Provo.
Mrs. and Mrs. G. A. Hersh resided with him in his residence the past two and a half years.
Funeral services will be conducted Sunday at 3 p.m. in Wasatch LDS Stake Tabernacle by Don Hicken, bishop of Heber Second Ward. Friends may call at Olpin Mortuary Saturday evening, Sunday prior to funeral services.
Burial will be in Heber Cemetery.
OBITUARY: Nymphas Coridon Hanks ; Utah; Salt Lake Tribune; 1955; Page D9
Image Gallery
Name Directory