Nellie Unthank
From Hanksplace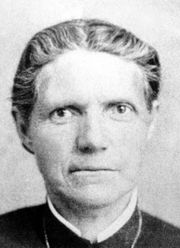 Short Biography
`She Gave More Than She Received'
Ellen (Nellie) Pucell Unthank was born in Preston, Lancashire, England, where her parents were among the first people in that nation to accept the teachings of the restored gospel as taught by Wilford Woodruff and his associates.
According to an account by William R. Palmer in the April 1994 Instructor, Ellen's mother, Margaret Perren Pucell, attended the first meeting of the Church in England. She was baptized in the River Ribble, and in August 1837, was probably the second woman in England to be confirmed a member of the Church. A month later, Margaret Pucell's husband, Samuel, was baptized.
Desiring to join the saints in their Rocky Mountain Zion, the couple qualified for help under the Perpetual Emigration Fund. With their two daughters, Maggie, 14, and Nellie, 9, they sailed from Liverpool May 2, 1856, in the company of 856 other Latter-day Saints.
Under Captain Edward Martin, many of the emigrants stopped nine weeks at Iowa City, Iowa, to await the building of handcarts. It was July 27 before the company was ready to depart.
The journey went smoothly at first, but the company ran into trouble as altitude increased and snow began to fall. Suffering from insufficient clothing, rations, bedding and fuel, many died, including William and Margaret Pucell.
The Martin handcart company and the Willie company just ahead of it had been passed by missionaries returning from England. When the missionaries arrived in Salt Lake Valley, their leader, Franklin D. Richards, alerted President Brigham Young to the plight of the emigrants.
At the opening session of October conference, President Young called for volunteers to go at once to rescue the distressed travelers. The people responded, and some teams left before nightfall.
The Martin company was found almost buried in snow 16 miles above the Platte River Bridge in Wyoming. The handcart pioneers were rescued and carried by wagon to Salt Lake City, where they were cared for.
The two orphaned Pucell girls suffered badly from frostbite. It was necessary to amputate the feet and lower legs of Nellie. Poor surgical conditions necessitated the use of a butcher knife and carpenter's saw, without the aid of anesthetic.
The wounds healed poorly, and the bones protruded from the ends of the stumps. For the rest of her life, Nellie waddled on her knees in constant pain.
Nellie and Maggie came with handcart friends to Cedar City, Utah, where they married. Nellie became the wife of William Unthank and bore him six children. In poverty, she did all she could to make ends meet: taking in washing, knitting stockings to sell, carding wool and crocheting table pieces. Her bishop and Relief Society sometimes assisted her. She repaid the kindness once a year when she and her children washed the meetinghouse.
She kept her home immaculately clean. While a more permanent house was being built, she lived with her children in a log cabin, and she kept the dirt floor as smooth as pavement by continually dampening and scraping it.
She died in Cedar City at the age of 69.
Ellen "Nellie" Pucell Unthank - Martin Handcart Company
Here is the story of a woman who, in spite of crushing handicaps, carried on the highest mission of womanhood. Her name was Ellen Pucell Unthank, but she was called "Nellie" by her friends and kinsfolk. Nellie, when nine years of age, left her home in England to come with her parents to Utah where they could worship with others of their faith and assist in building a new Zion. Nellie's parents were among those who died and were laid to rest in snow banks. But those who died and were laid to rest in the snow perhaps were most fortunate of all. They were through with their suffering and had gone to their reward. The rescue wagons gathered them up and took the sufferers to Salt Lake City where the Church saw to it that they were cared for.
Poor little Nellie, nothing could be done to save her feet. When they took off her shoes and stockings, the skin, with pieces of flesh came off too. The doctor said her feet must be taken off to save her life. They strapped her to a board and without an anesthetic the surgery was performed. With a butcher knife and a carpenter's saw they cut the blackened limbs off. It was poor surgery, too, for the flesh was not brought over to cushion the ends. The bones stuck out through the ends of the stumps and in pain she waddled through the rest of her life on her knees. In poverty and pain she reared a family of six children but never asked for favors of pity or charity because of her tragic handicap. William was a poor man and unable to provide fully for his family; so Nellie did all she could for herself. She took in washings. Kneeling by a tub on the floor she scrubbed the clothes to whiteness on the washboard. She knit stockings to sell, carded wool and crocheted table pieces.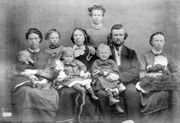 She seldom accepted gifts or charity from friends or neighbors unless she could do a bundle of darning or mending to repay the kindness. The bishop and the Relief Society sometimes gave a little assistance which Nellie gratefully accepted, but once a year, to even the score, she took her children and cleaned the meeting house. The boy carried water, the girls washed the windows and Nellie, on her knees, scrubbed the floor. This heroic woman gave to William Unthank, a posterity to perpetuate his name in the earth and he gave her a home and a family to give comfort and care in her old age.
In the Instructor article, William R. Palmer wrote his personal recollection as follows:
"In memory I recall her wrinkled forehead, her soft dark eyes that told of toil and pain and suffering, and the deep grooves that encircled the corners of her strong mouth. But in that face there was no trace of bitterness or railings on her fate. There was patience and serenity, for in spite of her handicap she had earned her keep and justified her existence. She had given more to family, friends and to the world than she had received."
Link
Productions
Name Directory