Milbrough Alicia Cook
From Hanksplace
Relationship: Niece of Thisbe Quilley Read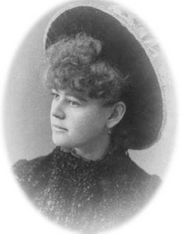 Vitals
Born: (29 Nov 1867) (Bald Nob, Near Glen Innis, Gough, New South Wales)

Died: (24 Mar 1896) (San Francisco, San Francisco, California, USA)

Buried: (29 Mar 1896) (Salt Lake City Cemetery, Salt Lake City, Salt Lake, Utah, USA)
Plot: F-7-10-2-W
Spouses
James Bernard Keysor m. (28 Nov 1888) (Salt Lake City, Salt Lake, Utah, USA)
William Henry Weyher m. (16 Aug 1894) (San Francisco, San Francisco, California, USA)
Children
None either marriages
Parents
William Greenley Cook c. (20 Jul 1827) (Ludlow, Shropshire, England)
Clara Elizabeth Quilley Read b. (16 Jul 1839) (, Lewisham, Kent, England)
Siblings:
Elizabeth Georgina Cook b. (30 Nov 1863) (Bankstown, Liverpool, Cumberland, New South Wales)
Milbrough Alicia Cook b. (29 Nov 1867) (Bald Nob, Near Glen Innis, Gough, New South Wales)
Death
BURIED: at Salt Lake Cemetery, Bk Plot F Block 7 Lot 10 by members of the Read and Arnold family. Headstone was never placed at site. The Clara Snell marker was restored through the Arnold family trust. A tree near the marker had grown so large that it broke the monument. The sexton would not consent to the tree being trimmed or removed. The monument was taken to Bob Dalton Memorial in Highland Utah. The monument consists of three pieces of granite. Mr. Dalton drilled steel rods to hold the upper two granite together. Epoxy glue was also applied. The monument was moved about 2 feet from the tree with a new cement base being poured. Ella's engraving was done on the Clara Snell marker and readied for Memorial Day 1997. Engraving reads: "Ella Mariam Hanks, 2 Nov 1863-7 Feb 1964. RESEARCH: Sherry Smith.
INTERMENT: MEMBERS NAMED ON THE MARKER: Ella Mariam Hanks, daughter of Ephraim K. Hanks and Thisbe Read; Milbrough Weyher, daughter of Clara Read and William Cook; Charles Drown, shot by some unknown person, 28 Aug 1859, friend of Josiah Arnold; Samuel W. Richards (nephew, son of Elizabeth Georgina Cook); John Borlase, step-bro-in-law to Josiah Arnold, died St. Mary's hospital, born in Cornwall, England, died 5 Jan 1881, cause of death is homicide, shot by D. Jenkins; Josiah Arnold, father-in-law to Alicia Read, shot by some unknown person along with Charles Drown; Hyrum Chester Arnold, son of Josiah Arnold; John Snell, second husband to Clara Read; William Greenley Cook, first husband to Clara Read; Georgina Arnold, baby daughter to Alicia Read and O.P. Arnold (Georgina's head marker is where her parents are buried but Georgina is buried where the Snell marker is placed); RESEARCH: Sherry Smith.
Image Gallery
William Henry Weyher, 2nd husband of Millie. William later marred Thisbe Evelyn Arnold, daughter of Alicia Quilley Read Arnold and 1st cousin to Millie. Thisbe Evelyn and Millie were nieces to Thisbe Quilley Read.
Name Directory