Mary Ellen Stewart
From Hanksplace
Relationship: Daughter-in-law of Ephraim Knowlton Hanks & Thisbe Quilley Read
Association: Here worked a team-a woman (Mary Ellen) with a faith strong enough to move mountains and a man (Ephraim K. Hanks) clothed in the robes of the Holy Priesthood with a faith strong enough to match, with the gift of healing. They walked with the Lord in such a way that they had a special claim upon His healing powers. Very few people have traveled through the countryside healing and blessing the sick as did these two in their lifetime. many are the stories told by all who knew them and felt their beloved presence and the great blessings they brought to each in turn. When they worked together, they were unbeatable. When they worked alone, each was a powerful influence for good.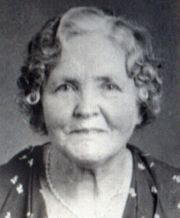 Vitals
Born: (20 Jul 1867) (Beaver, Beaver, Utah, USA)

Died: (26 Jul 1944) (Clarkdale, Vavapai, Arizona, USA)

Buried: (1 Aug 1944) (Teasdale, Wayne, Utah, USA)

Parents
Urban Van Stewart b. (9 Nov 1817) (, Overton, Tennessee, USA) Stewart Kin
Ellen Adams b. (10 May 1848) (Red Point, North Umberland, Pennsylvania, USA)
Spouse
Walter Ernest Hanks m. (15 Apr 1887) (Logan, Cache, Utah, USA)

Children:

Sketches
Written by her son, E. Kay Hanks Jr.
June 1959

Mary Ellen Stewart was born July 20, 1867 at Beaver, Utah. The first child of Urban Van and Ellen Adams Stewart. She was a sickly child. At nine months the old family doctor told the neighbors on leaving the Stewart home "that the baby would be dead as a door nail by morning". That night a little elderly woman came to her Mother in a dream and said, "Your baby is not going to die. She has a great mission to perform. She will get well and live to womanhood." Next morning when Ellen described the woman of the dream to her husband, Urban Van said, "You have given a perfect description of your own Mother who died when you were one year old." From that night forward Mary Ellen grew stronger and healthier.
Later in years when Mary E. Hanks did the work for Agnes Simpson Cook, her grandmother in the Arizona temple, she felt her companionship all through the performance. It was a happy day for both of them. In Mary Ellens youth "prayer" was the moving power that laid all things at her feet. When ever she lost a marble, a toy or anything, she went to the Lord with her problem and invariably it was solved, until she thought that everything was to be had for the asking.
This humble companionship was to last throughout her lifetime. From her diary; "I have always been thankful that Eliza R. Snow and Zina B. Young came to Adamsville when I was ten years old to organize the Primary. They told us the beautiful story of how we loved and chose our companions in the spirit world, and how the children chose their parents and lineage before this world was. They pointed out, how easy it was to get married to the wrong companion because now we remember nothing of our existence before we came here. They advised us to pray that very night for the Lord to guide our affections to the right person, that He would do so and then there would not be any unhappy marriages. I believed all they told us. To me it was one more beautiful truth revealed from the Lord. I kneeled that very night and thanked the Lord for the wonderful way he had arranged our lives. Every night after that I prayed to be directed to the man I had promised to marry. Whenever I would meet a young man that appealed to me, I would ask the Lord if he were the right one if not to cause my interest in him to diminish, so that I would not make a mistake. The Lord never failed me. Nor will He with anyone who believes and trusts in Him."
Mary Ellen's folks moved to Teasdale in Wayne County. Here Mary Ellen met Walter E. Hanks for the first time at Stake conference held at Fish Lake. It was love at first sight. April 15, 1887 they were married in the Logan Temple. Three days later Walter left for a mission in the Northern States. Mary Ellen who had planned on going to B.Y.U. to school, changed her plans and taught school at Teasdale, earning $60.00 for a ten week term. She kept out ten dollars for tithing and a few incidentals and sent the $50.00 to her husband for his support.
When summer came she went down to Pleasant Creek to visit her husbands folks. Quote from her diary; "The trip proved quite eventful. One day as Georgina and myself were in the orchard picking fruit, Grandfather Hanks came and asked us to go to the house to wash and anoint Mother Hanks who was very ill. Neither of us had ever experienced such action before and we were both very frightened. We prayed earnestly to be guided aright. The Lord heard our prayers and Grandmother was healed." Later E. Kay had to make a trip to Blue Valley to get Sister Foy to come up and take care of his wife in childbirth. Mary Ellen accompanied him on the trip.
As they neared Caineville, E.K. turned to Mary Ellen and said, "The Dalton family are having a lot of trouble. Isabel has been under a doctors care at Fish Lake but the Dr. sent her home to die. Mary Ellen I want you to wash and anoint her and she will get well." As E.K. told of this family, Mary Ellen had been thinking the same thing, that Sister Dalton should be washed and anointed but dared not say anything for fear she would be asked to do it.
She said, "Why didn't you get Sister Foy or some other good woman to do it?"
E. Kay was firm, "No, you must do it yourself."
They stopped to see the Daltons on their was to Blue Valley and found Sister Dalton very sick.
E. Kay asked John, if he wanted his wife to get well. John said he did.
Then he asked sister Dalton if she wanted to get well. She said "yes".
"Tomorrow as we return from Blue Valley, Mary Ellen will wash and anoint you and you will be made well."
Mary Ellen said she slept little that night. She prayed much that she might be guided aright by the Holy Spirit and asked that "The Lord's will be done". Mary Ellen had felt a strong spirit of opposition in the Dalton home and prayed that it might be removed.
Next morning when they arrived at the home she felt it again. She requested that she be allowed to pray before the washing and anointing. Again she prayed for the removal of the evil spirit as she prayed she said, "I could feel the evil influence start to leave the bed and inch toward the door."
In the anointing I promised Sister Dalton three times that she would recover and complete her mission on earth. When I realized what I had promised this very sick woman I was so frightened I nearly choked until Grandfather Hanks sealed the anointing and promised her health and life. Then I know it was alright." Isabel Dalton was healed and lived many years in normal activity.
Here worked a team, a woman with faith strong enough to remove mountains. A man clothed in the robes of the Holy Priesthood with the faith to match a mountain and with a special gift of healing. They walked with the Lord in such a way that they had a claim upon His healing Power. Few people have gone through the countryside healing and blessing the sick as these two did in their lifetime. Numerous are the stories that come from all who knew them and felt their lovable presence. Together they were unbeatable. Alone, each was powerful in the good accomplished.
Later when Walter and Mary Ellen lived in Caineville they were the first sent for in trouble and sickness. They were indeed ministering angels to all who needed assistance. No service was too small and none too large.
When diphtheria struck Caineville Mary Ellen did not sleep or go to bed for two weeks straight. She furnished most of the sheets and the table cloths to line or cover the home made caskets of the seven children taken with this plague. Mary Ellen worked shoulder to shoulder with her husband in all things. She mothered 8 children and carried on all other responsibilities placed before her, all without a complaining word.
Shortly after the death of her husband Walter, Mary Ellen wrote in her diary, "This was a great sorrow to me as we were so heavily in debt. The nights seemed hideous nightmares. I felt like a ship without and anchor." All the property in Bicknell was sold and turned towards the existing debts. Mary Ellen moved in with her Mother Ellen Stewart who was in her late 80's and enjoyed so much being a help to her Mother in her declining years. After her passing, Mary Ellen lived for a short time with her children. Then she spent a year or so working in the Arizona Temple. Arrangements were then made by the help of the children to buy a home located on the Temple grounds at Manti. Now she was in her glory working in the Temple of the Lord, serving out her remaining years as an ordinance worker, mainly in the baptismal rooms.
At the death of her Mother Ellen Stewart, the estate was divided. Mary Ellen's share was enough to clear off her existing debts. It was a glorious feeling to be free from this dark cloud of bondage. It had taken her the age of 75 before this freedom was won.
On her 77th birthday, three of her children, Nellie, Tissy, and Urban, came to the Temple to celebrate with her, that day they sealed 55 couples, 116 children to parents and completed 5 endowments. This left only a few more names available to complete. The following day these were completed. They ate lunch together at the Temple. That evening they were all together for dinner in Mary Ellen's home. After the meal was over they looked at the collection of pictures and to each of the children she gave pictures which they wished for. She then distributed some of her canned fruit to each as though the future was not too certain. It had been a perfect day and none rejoiced more than Mary Ellen her debts were all settled the Temple work all caught up and a peaceful contentment swept over her.
There was one more assignment, her youngest son Verd had been very sick in Arizona. She wanted to see him. Now was the perfect time to make the trip. She bought her ticket on the bus and was soon rolling toward the south. She felt fine upon arrival and enjoyed three wonderful days with Verd and family. Verd was out of the hospital and met her at the station. On Wednesday evening she made known that her stomach was a little upset at 9:30 p.m. she lost her balance and fell from a chair to the floor. Verd helped her to the bed and a doctor from across the street was soon at her bedside. She asked to be administered too and felt much better. Her breathing was labored and the doctor suggested the hospital and an oxygen tent. The ambulance arrived, Verd sat by her as they drove up the hill from Clarkdale to the Jerome hospital. Before the hospital was reached the ambulance stalled as though by an unseen hand Mary Ellen smiled at Verd and then relaxed in his arms, as she was borne heavenward by her husband and loved ones. "Mission Accomplished."
It had been said that if Mary Ellen was to depart this world, it would have to be before she could get her "Faith" in action. Thus it was. At the funeral in Teasdale the speakers paid her much honor. They were sincere in their remark for much honor was due this angel of mercy. She was laid to rest between her husband and eldest son. They had worked side by side in the great struggle of life and now they rest side by side until the resurrection comes to restore them in all things.
"Sunset and evening star,
And one clear call for me:
And may there be no mourning at the bay,
When I put out to sea."


- Ellen Josephine Hanks Rymer Collection
Links
Photo Gallery
Ranger Walter E. Hanks, Wild Cat Station, Boulder Mountains, Wayne County, Utah - Taken about 1910, Sherry Smith Collection

Walter & Mary Ellen's Bicknell, Wayne County, Utah Home - E. Kay Hanks Collection

5 Generation Portrait - Front l-r: Ellen Adams, infant Utanah Ellen Morrill, Ellen Elizabeth Rymer; Back l-r: Mary Ellen Stewart & Ellen Josephine Hanks. Photo taken at the Walter E. Hanks Camp on top of the Boulder Mountain - courtesy of Utanah Ellen Mills

Mary Ellen Stewart Hanks, Teasdale, Wayne, Utah
Name Directory