Martha Jane Read
From Hanksplace
Relationship: Niece of Thisbe Quilley Read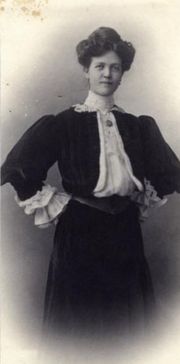 Vitals
Born: (19 May 1876) (Nephi, Juab, Utah, USA)
Died: (17 Jan 1962) (Salt Lake City, Salt Lake, Utah, USA)
Buried: (20 Jan 1962) (Mount Olivet Cemetery, Salt Lake City, Salt Lake, Utah, USA)
Spouse
Peter Carlos Evans m. (27 Jul 1907) (Salt Lake City, Salt Lake, Utah, USA)
Parents
Walter Pyramus Read b. (8 Aug 1848) (Poplar, London, Middlesex, England)
Martha Ann Pond b. (13 Oct 1853) (Salt Lake City, Salt Lake, Utah, USA)
Siblings:
Sketch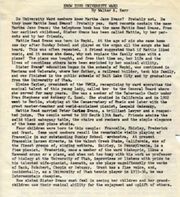 Know Your University Ward by Walter A. Kerr
Do University Ward members know Martha Jane Evans? Probably not. Do they know Mattie Read Evans? Probably yes. Ward records contain the name Martha Jane Evans; the telephone book has the name Mattie Read Evans. From her earliest childhood, Sister Evans has been called Mattie, by her parents and by her friends.
Mattie Read Evans was born in Nephi. At the age of six she came home one day after Sunday School and played on the organ all the songs she had heard. This was often repeated. A friend suggested that if Mattie like music, and it seems she does, why not replace the family organ with a piano? This piano was bought and from that time on her life and the lives of countless others have been enriched by their musical ability.
Sister Evans' education begain in the schools of Nephi and was continued in Montana and Colorado where her father a railroad builder, took his family and was finished in the public schools of Salt Lake City and by graduation from the University of Utah.
Elmina Taylor, president of the YWMIA, recognizing by ward operettas the musical talent of this young lady, called her to the General Board where she served for many years. She was a member of the Tabernacle Choir under Evan Stephens and Anthony C. Lund. She studied in California and in 1902 went to Berlin, sutdying at the Conservatory of Music and later with the great master-teacher and world-acclaimed pianist, Leopold Godowsky.
Mattie Read married Peter Carlos Evans, a brillant lawyer and respected judge. The couple moved to 169 South 13th East. Friends admired the solid black mahogany table, the chairs and rockers and the simple elegance of the home and piano study.
Four children were born to this couple: Francelle, Shirley, Frederick and Grant. Some ward members recall the remarkable violin playing of Francelle in our outstanding Sunday School orchestra. All present, Francelle Larsen directs, in the Walnut Creek Stake, California, one of the finest groups of singing mothers. Shirley, in Pennsylvania, is a fine pianist. Frederick, once a member of the ward bishopric, likes a Hammond organ or a piano, and when not too busy with his work as professor of history at the University of Utah, improvises or listens with pride to his talented wife-pianist Asenath, as she play magnificantly the works of Bach, Schubert, Chopin or Debussy. Grant has a fine voice, and incidentally, as a University of Utah tennis player in, he was Intermountain champion.
How elated Sister Evans must feel in seeing her children and her grandchildren use their musical ability for the enjoyment and uplift of others.
- from the Robert Larsen Collection
Image Gallery
Name Directory