Martha Georgenia Hanks
From Hanksplace
Relationship: Daughter of Ephraim Knowlton Hanks & Thisbe Quilley Read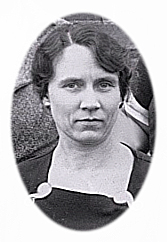 Vitals
Born: (20 Aug 1867) (Parley's Park, Summit, Utah, USA)
Died: (12 Jan 1902) (Orangeville, Emery, Utah, USA)
Buried: ( ) (Orangeville, Emery, Utah, USA)
Spouse
Daniel Allen m. (20 Mar 1886) (Lyman, Wayne, Utah, USA)
Children:
Parents
Ephraim Knowlton Hanks b. (21 Mar 1826) (Madison, Lake, Ohio, USA)
Thisbe Quilley Read b. (25 Apr 1845) (Stepney, London, Middlesex, England)
Siblings:
Sketch
Martha Georgiana Hanks was born 20 August 1867 at Parley's Park, Summit, Utah. I found a film of Orangeville Ward Records in the Genealogy Library. It shows that she was baptized by Robert Nelson Adams, 27 May, 1886. Her earlier records may have been lost.
Georgenia married Daniel Allen in Lyman, Utah, 20 March, 1886. They were sealed in the St. George Temple 9 June, 1886 by John T. D. McAllister.
They lived at Carcus Creek, now Grover, near Teasdale. Daniel ran a saw mill up on the side of the Boulder mountain in the summer, for a few years. Thisbe, Knowlton, John Robert, and Claud were born in Teasdale, Amy Alecia was born at Grover. Records on film show their membership was sent from Teasdale, Wayne, Utah, to Orangeville, Emery, Utah on the 12 Sept., 1887. Their sixth child Nettie Georgenia, was born 10 Feb. 1899 in Orangeville.
Their 7th child, Ray Hanks Allen was born 5 Jan. 1902 in Orangeville and Georgenia Allen died a week later and was buried there.
It was a sad experience for Daniel. Some of his folks helped with the children for a month or so.
When winter broke and roads were better, Georgenia's mother Thisbe in Caineville, sent Arthur, age 20 and Nettie, 18 years, to Orangeville for the baby, Ray and the boys. John went with Arthur to the Floral Ranch that summer and thru the years, spent much of his time with Art.
Daniel was in the logging business and went to California for a while. His later years were spent in Cascade, Idaho where his son Knowlton and family are living. He died 8 Dec., 1928 in Cascade and is buried there.
written by Teton H. Jackman
Page 462 A
Image Gallery
Name Directory