Lillie Maria Hanks
From Hanksplace
Relationship: Daughter of Ephraim Knowlton Hanks & Thisbe Quilley Read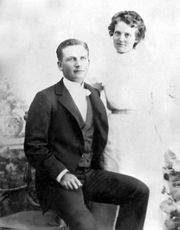 Vitals
Born: (2 Aug 1879) (Burrville, Sevier, Utah, USA
Died: (2 Mar 1960) (Burley, Cassia, Idaho, USA)
Buried: (5 Mar 1960) (Burley, Cassia, Idaho, USA)
Spouse
James Henry Wodskow m. (18 Apr 1900) (Manti, Sanpete, Utah, USA)

Children:
Spouse
Charles W. Jenkins m. (03 Mar 1924) (Brigham City, Box Elder, Utah, USA)

Spouse
Albert Phillip Ploeger m. (15 May 1942) (Elko, Elko, Nevada, USA)
Parents
Ephraim Knowlton Hanks b. (21 Mar 1826) (Madison, Lake, Ohio, USA)
Thisbe Quilley Read b. (25 Apr 1845) (Stepney, London, Middlesex, England)
Siblings:
Sketch
History of Lillie Maria Hanks
1880-1960


Lillie Maria Hanks was the ninth child of Thisbe and Ephraim. She was born in Burrville, Sevier, Utah. On some of her records we have 2 August, 1879 as her birthday, but the date she gave when she went to the Manti Temple was Aug. 2, 1880.
She was about three years old when they moved to the Floral Ranch so she enjoyed watching them build it up and plant crops and trees to make it more desirable. One big cotton wood tree is still growing where it shaded the door yard of the old house which burned down about 1950.
Lillie was a happy child, they all enjoyed her. She had light blue eyes like her father but was not tall as her brothers.
She was nearly twenty one when she married James Wodscow. He was from Manti. They were married in the Manti Temple, 21 March 1900.
Their first child, Jamie Wodskow was born in Manti, 24 Jan. 1901. He died in Feb. 1901.
Their next child, Vadis Luzon Wodskow was born in LeGrande, Oregon. Vadis married Roy Hardy and they live in Hayburn, Idaho, a few miles north of Burley.
Hillard, the third baby. He lived only about ten months.
Marvel was also born in Burley. She married Melvin Hart Lowder, 2 March, 1925. They have five children. They have a farm in Rupert, Idaho.
Mabel was also born in Burley.
Lillie and James then moved to Declo where their last three children were born. These were Darrell, John, and Walter.
John married Genevieve Johnson, of Rupert, Idaho. They are the parents of five children. They live in Heyburn.
Walter married Emma Southern of Heyburn and they have eight children. They have a farm also and live at Heyburn.
Aunt Lillie's husband, James Wodskow, died 29 Aug., 1930 in Burley. Lillie married Charles W. Jenkins and after his death, she married Albert Ploeger. They lived in Burley. Albert died about 1957. Aunt Lillie is living in Burley and is in only fairly good health. (Dec., 1959).
Written by Teton H. Jackman
page 462A

Image Gallery
Name Directory