John Snell
From Hanksplace
Relationship: Brother-in-law to Thisbe Quilley Read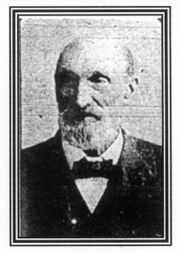 Vitals
Born: (15 Jan 1826) (, Westmoreland, Pennsylvania, USA)
Died: (12 Sep 1908) (Salt Lake City, Salt Lake, Utah, USA)
Buried: (14 Sep 1908) (Salt Lake City Cemetery, Salt Lake City, Salt Lake, Utah, USA)
Plot: F-7-10-W-1
Spouse
Clara Elizabeth Quilley Read m. (22 Jun 1881) (Salt Lake City, Salt Lake, Utah, USA)
Obituaries
Died. Snell--At 242 West First South Street, Sept. 12, 1908, of old age, John Snell, in his eighty-third year. Native of Pennsylvania; husband of Clara E. Snell of the Sidney House. Funeral notice later; SOURCE: Deseret News, September 13, 1908, film #26,972.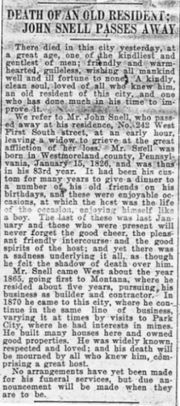 Death of An Old Resident; John Snell Passes Away.
There died in this city yesterday, at a great age, one of the kindliest and gentlest of men; friendly and warm-hearted, guileless, wishing all mankind well and ill fortune to none. A kindly, clean soul, loved of all who knew him, an old resident of this city, and one who has done much in his time to improve it.
We refer to Mr. John Snell, who passed away at his residence, No. 242 West First South Street, at an early hour, leaving a widow to grieve at the great affliction of her loss. Mr. Snell was born in Westmoreland County, Pennsylvania, January 15, 1826, and was thus in his 83rd year. It had been his custom for many years to give a dinner to a number of his friends on his birthdays, and these were enjoyable occasions, at which the host was the life of the occasion, enjoying himself like a boy. The last of these was last January and those who were present will never forget the good cheer, the pleasant friendly intercourse and the good spirits of the host; and yet there was a sadness underlying it all, as though he felt the shadow of death over him.
Mr. Snell came West about the year 1865, going first to Montana, where he resided about five years, pursuing his business as a builder and contractor. In 1870 he came to this city, where he continue in the same line of business, varying at times by visits to Park City, where he had interests in mines. He built many houses here and owned good properties. He was widely known, respected and loved; and his death will be mourned by all who knew him, comprising a great host.
No arrangements have yet been made for his funeral services, but due announcement will be made when they are to be.
Body of John Snell is Finally at Rest
Many Old Friends of Deceased Participate in the Funeral Services
The last tribute was paid to the late John Snell, who died at his home 232 (sic) West First South street, last Saturday at the ripe age of 82 years, at the funeral service held from the residence Monday afternoon. The services, which were conducted by Thomas C. Taylor, an old-time friend and acquaintance of the deceased man, were well attended, any of the oldest people of the city who have been friends of Mr. Snell for many years being present. Mr. Snell was widely known, respected and loved, which was simply demonstrated at the funeral.
After Mr. Taylor had briefly reviewed the dead man's life, Quayle Cannon, another friend and acquaintance, made a talk on the career and achievements of Mr. Snell. Special music was furnished by a mixed quartette. There was a profusion of beautiful and costly floral tributes, including many handsome wreaths of various shapes.
After the funeral the body was taken to the City cemetery, where the burial took place, the grave being dedicated by Mr. Taylor. The pall bearers were all old friends of Mr. Snell, namely Messrs. Taylor, Crane, Hartley, Johnson, Scribner and Tall.; SOURCE: The Salt Lake Tribune, Sept 15 1908, LDS Church Historian's Office.
Image Gallery
Name Directory