John Rodwell
From Hanksplace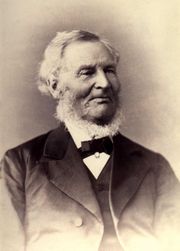 Relationship: Stepfather to Thisbe Quilley Read
Association: Received a prophetic dream about the rescue. Member of the Martin Handcart Company. While living in England baptized Thisbe Quilley Read a member of the Church of Jesus Christ of Latter-day Saints.
Vitals
Born: (28 May 1799) (Thelnetham, Suffolk, England)
Died: (2 May 1884) (Nephi, Juab, Utah, USA)
Burial: (10 May 1884) (Salt Lake City Cemetery, Salt Lake City, Salt Lake, Utah, USA)
Plot: Grand Aveune, Plat J, Block 7
Spouse
Sarah Jane Morgan m. (28 Oct 1821) (Faversham, Kent, England)
Children:
Spouse
Elizabeth Georgina Quilley m. (10 Jan 1863) (Salt Lake City, Salt Lake, Utah, USA)
Parents
John Rodwell b. (Abt 1774) (of Hopton, Suffolk, England)
Mary Parkin b. (14 Jan 1776) (Thelnetham, Suffolk, England)
Journal Account
Praying is something that we do more often now, too. In our tents with our families we gather more frequently. At prayer times it seems that the prayers are more unwavering, more devoted, more from the depths of one's heart. I know mine are.
At prayer meeting tonight, a very fascinating and wonderful incident, happened! I have heard of it before, but I have never seen it happen. Brother Rodwell stood up after prayers and started to speak in a language that I did not understand. I wondered if he had been on a mission somewhere where they spoke that language, but Louisa whispered "No, he has not been on a mission! He is speaking in tongues!" We were shushed of course by those near us.
Then the most wonderful thing happened. The interpretation was given that "Rescuers will be with us within three days. Deliverance is on the way!" Can it be believed? Oh, how wonderful! In three days we will have help! After that we sang "The Spirit God Like a Fire is Burning," with more enthusiasm than we have had in quite a long while.
(Note for Oct 25: Weather is some warmer for the rescue party, and the snow is slowly going away. Wind still continuing to blow. However, only about ten miles were accomplished!)
Sunday, October 26: Brother Rothwell shared a very inspiring dream that he had during the night. Right after prayers this morning he said: "I dreamed that it was Tuesday or Wednesday, and about noon tide, as near as I could judge. I saw a mule packed with blankets and cooking utensils come right in the middle of our camp, as we are now, followed by three Californians wearing blue soldier overcoats, riding mules or horses. They stopped and told us of teams and relief from the Valley, after which we started again on our journey." He continued by telling us that he believed that it was a true vision and that help would come soon.
We are still in camp at Red Buttes. We have not moved since the 23rd. The hope that the weather would moderate has been realized. It is a lovely pleasant day. The snow is gradually melting. The other hope we had, that of reviving energies, has not been realized! Trying to travel is not going to happen even today.
Some of our cattle have strayed across the river. The wind has blown e snow from the ground over there, and the animals have been able to graze on the grass that has thus been uncovered.
A couple of the brethren, one of them Josiah Rogerson, have been assigned to go over and round them up, as we will need them when it is time to dove out. The Hunt Company is supposed to help them. They should be back towards evening.
A beautiful poem was shared with us today. It was written for Lyman 0. Littlefield on his way to his European Mission in 1847, by Eliza R. Snow. The fifth and sixth verses go like this:
"Go, Brother, and say to the Saints that are faithful
That God is preparing a kingdom of rest;
And when they have passed thro' the tide of affliction,
With the fullness of blessing they'll truly be blest.
Go Brother, be faithful, and God will protect you
And bear you in safety across the great deep;
And your guardian angel will bring you instruction,
And whisper sweet comfort to you when you sleep."

What beautiful reminders of God's promises from one of the widows of the Prophet Joseph to a missionary on his way to preach the gospel. What beautiful words to us in our afflictions, or, for that matter to anyone who is privileged to read such inspiring words!
We are definitely experiencing afflictions, so we have been promised the fullness of blessings. The Endowment House and eventually the temple will be a part of those. Angels have brought us across the "great deep," and have brought us instruction and help in many ways. Even sweet comfort has been whispered often. We feel it more now than we ever have.
One of those sweet comforts came in the form of speaking in tongues and interpretation of tongues last night. Speaking and interpretation of tongues were written about, by the Prophet Joseph himself in the 7th Article of Faith. We had all heard about them, but can it really be, that we, the members of the Martin Handcart Company, have been honored to experience them? Of course it is! The Lord is sending help! Another sweet comfort is the dream of Brother Rothwell that he shared this morning. It parallels the speaking and interpretation of tongues of yesterday, and is second witness that aid is on its way!
When will we see them? Who will it be? How many will it be? All these things and many more are being contemplated throughout the camp! We can hardly speak of anything else!
Another promised blessing that was fulfilled must also be shared! (Mother is here giving me the words to write as she was with the McBrides when it happened.) I wrote earlier about the two very kind sisters who had taken Sister Bleak's four-year-old son, Thomas, into their tent to care for him for the night. He was discovered this morning dead between them! They were horrified!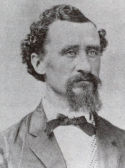 They tearfully brought his lifeless form to Brother and Sister Bleak. Brother Bleak, who had already made up the fire, lovingly took the young child into his arms. He sat down as near to the fire as he dared and began to anoint Thomas with consecrated oil. He prayed over him, calling upon the Great God. of Heaven to keep His promise to the Bleak family that not one of the family should fall by the way in gathering to Zion. Brother Bleak checked for his heart beat. There was none. Everyone watched for breathing. Nothing! The father, with full faith in the promises of The Father, continued to administer to the limp infant. He chafed his limbs and body, all the while calling upon the Lord God to fulfill His promise.
After what appeared to the sympathetic watchers and fellow sufferers as a very long time, Brother Bleak saw a slight flutter in the child's throat; this encouraged him to continue his ministrations. Finally the dear child opened his eyes and slowly moved his delicate hand up to the tear-stained cheeks of his father. The prophecy of life was miraculously fulfilled!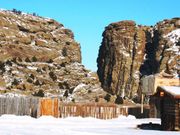 [Note for Oct 26: The rescue party were able to travel 19 miles and made their camp near Devil's Gate. The express that had been sent out earlier, was waiting there with no word from the Martin company. They were waiting for further orders. It was on this day that Eph Hanks hear call for more volunteers in Salt Lake City. He is ready to go.]
[Brother Rodwell's speaking and interpretation of tongues is reported by (LAB). Brother Rothwell's dream is reported by Josiah Rogerson. Both could be the same incident but the author (Joann Felix) chose to treat them separately].
[The Express Riders--Joseph Young, Dan Jones and Abel Garr, arrived at the Red Buttes on 28 Oct, all bustle and busy and ready to move out. The Martin company is in a deplorable condition, having lost 56 since crossing the North Platte 9 days earlier. Their provision were gone, clothing nearly worn out and there was few blankets. Several died during the night].
Image Gallery
Links
Productions
Mormon Handcart Production - A theatrical re-enactment, dedicated to the Martin and Willie Handcart Companies of 1856 and their Rescuers, both past and present.
Sweetwater Rescue - From 1856 to 1860, ten handcart companies traveled to what they considered Zion. Eight crossed the plains successfully. Two—the Willie and Martin Companies—met with a wintry disaster in 1856, as did the Hunt and Hodgett Wagon Trains trailing behind them. The rescuers from the Salt Lake Valley faced the same horrific snows.
Name Directory