Independence Rock
From Hanksplace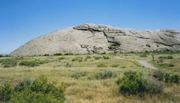 There were three outstanding natural monuments on the way to Oregon: Chimney Rock, near Scotts Bluff, Nebraska; Red Buttes, southwest of Casper, Wyoming; and Independence Rock. It was about 830 miles from Independence, Missouri to Independence Rock, two fifths of the way to Fort Vancouver in Oregon. Independence Rock is named for a fur trader's Fourth of July celebration in 1830. This huge rock became one of the most famous of all Oregon Trail landmarks. The giant piece of granite is 1,900 feet long, 700 feet wide, and 128 feet high.
The landmark was a favorite resting place for travelers along the trail. Called the "Great Register of the Desert", more than 5,000 names of early emigrant were carved on this boulder. Starting the trail in the early spring, emigrants along the Oregon Trail hoped to reach Independence Rock by July 4, Independence Day. If they had not arrived by then, they knew they were behind schedule.
In 1870 the first accurate measures were taken by a Dr. F. V. Hayden. He measured the circumference by odometer to be 1,552 yards. He used a barometer to measure the height of the northern end as 193 feet and the southern end as 167 feet. There was a depression in the middle about 60 feet high. The general orientation of the rock was northeast by southwest. He believed the rock to be composed of feldspar and granite. A later geologist, Charles J. Hares, stated that he believed the rock to have been carved during the last ice age by glaciers.
Links
Name Directory