Fred Elmer Hanks
From Hanksplace
Relationship: Nephew to Ephraim Knowlton Hanks
Association: Last Hanks descendant to have title of the Madison, Lake, Ohio homestead property. It was sold abt 1932 to the Baster family.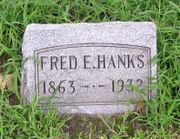 Vitals
Born: (23 Sep 1864) (Madison, Lake, Ohio, USA)

Died: (7 Apr 1932) (Madison, Lake, Ohio, USA)

Buried: (9 Apr 1932) (Madison South Ridge Cemetery, Madison, Lake, Ohio, USA)
Plot: Section E, Row 5, Marker 8
Obituary Telegraph Date: April 07, 1932 pg 1
Spouse
Carrie Duesler m. (4 Dec 1895) (Madison, Lake, Ohio, USA)
Children: None
Parents
Otis Holbrook Hanks b. (10 Nov 1832) (Madison, Lake, Ohio, USA)
Cornelia Ann Dewey b. (13 Oct 1840) (Madison, Lake, Ohio, USA)
Siblings:
Fred Elmer Hanks; b. (23 Sep 1864) (Madison, Lake, Ohio, USA)
Jane Knowlton Hanks; b. (4 May 1866) (Madison, Lake, Ohio, USA)
Obituary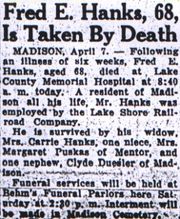 Fred E. Hanks, 68, Is Taken By Death-Madison, April 7.- Following an illness of six weeks, Fred E. Hanks, aged 68, died at Lake County Memorial Hospital at 8:40 a.m. today. A resident of Madison all his life, Mr. Hanks was employed by the Lake Shore Railroad Company.
He is survived by his widow, Mrs. Carrie Hanks, one niece, Mrs. Margaret Puskas of Mentor, and one nephew, Clyde Duesler of Madison.
Funeral services will be held at Bohm's Funeral Parlors here, Saturday at 2:30 p.m. Interment will be made in Madison Cemetery.
RESOURCE: Painesville Telegraph, Obit 1, April 1932, page 1; RESEARCH: Courtesy of Georgi Rolan; COMPILED: Sherry Smith.





Madison, Ohio Property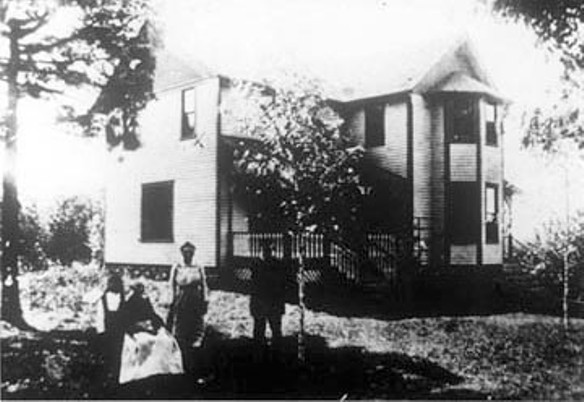 Fred & Carrie Hanks standing in front of their home on the Hanks homestead acquired by Elijah Hanks. This particular home was built abt 1908-1910. The original Elijah Hanks home was a log cabin. The woman sitting is Cornelia Hanks and the boy is a neighbor. The last one to live and raise a family there was Elijah Hanks's grandson, Benjamin William Hanks. Benjamin married Cornelia Ann Dewey, his brother's, Otis Holbrook Hanks, widow. Benjamin & Cornelia lived there, raised their family and died there, being buried in sight of their home. The farm was left to Fred Elmer Hanks, Otis' son. Fred married Carrie Duesler but had no children. The farm was also left to Walter Dewey Hanks, Benjamin's & Cornelia's only living child, who moved to San Francisco. Walter needed his share of the inheritance so Carrie sold the farm in the early 1930's. Thus, the farm was passed to others after 119 years of ownership. - photo taken abt 1929 by Retta Arthella Hanks while serving a prosyleting mission for the Church of Jesus Christ of Latter-day Saints. Retta became an overnight guest in the home. Retta and Fred were 1st cousins, 1 times removed.
Commentary of this Madison Home on the Former Hanks Homestead
9th September 1811, they (Elijah Hanks) left Wellington, Connecticut for Madison, Lake County, Ohio, arriving there the 3rd of October when they immediately went to work to put up a log house, into which they moved 8th November, on the same farm which has ever since been in the possession of the family.
- Ancestral Trail, Elijah Hanks family, Madison pioneers, BICENTENNIAL SERIES, By Mildred Steed, New Connecticut, Chapter DAR, 29 May 1976

To the best of my knowledge, our family has owned the property since 1932. My father and his first wife lived there and then my aunt (his sister) and uncle lived there. My aunt was there until this March when she broke her hip and had to go to a nursing home. She is 94 this year. According to county records, the house was built in 1910. Our family farmed the property until my father retired. Grapes and grain crops were grown there during my lifetime. Most of the property was sold. The house and about 2 acres remain.
- Email correspondence from Tom Baster to Sherry Smith, 1 October 2006.
I am not sure when my father occupied the house. He was there with his first wife and I understand the marriage did not last long. I would guess my aunt and uncle occupied the house starting in the early to mid forties when they were married. Nothing in the way of oral history has been passed to me regarding the property.
I will see if there are any old photos of the property. I am not holding much hope though. I have started organizing my aunt's belongings and have found photos that relate to my family history, but none of the house. Did you try the Madison Historical Society? They may have some old tax maps etc that you might find useful. I know my aunt donated many things to them.
- Email correspondence from Tom Baster to Sherry Smith, 17 October 2006
Baster Family - Fairview Cemetery, Madison, Lake, Ohio
Image Gallery
BWH, 1908 - Benjamin William Hanks. Door to the coal bin on the inside of the house (no longer used as such since natural gas became available). Photo courtesy of Tom Baster, March 2008.

Carrie Duesler, wife of Fred Elmer Hanks, Section E, Row 5, Marker 9 - courtesy of Georgi Rolan
Links
Name Directory