Floral Ranch
From Hanksplace
Association: Box canyon home of Ephraim Knowlton Hanks & Thisbe Quilley Read, Pleasant Creek, Capitol Reef National Park, Wayne County, Utah.
History
Floral Ranch is located in a box canyon on Pleasant Creek, a small tributary of the Fremont River. Here in 1878, Ephraim Knowlton Hanks, Utah pioneer of 1847, built a home, setting about about two hundred fruit trees he cultivated.
"In August of 1882, Ephraim Knowlton Hanks and his family settled on Pleasant Creek, just west of where it cuts through the upturned cliffs. Their first home was a dugout built into the side of a bluff with a second room of logs added on. By 1888, a four or five-room frame house had been built. The Hanks family raised some crops, had some pasturage for a few livestock, and also set out an orchard of about 200 fruit trees, which they cultivated. During their first spring at Pleasant Creek, when the fruit trees came out with thousands of blossoms, Mrs. Thisbe Quilley Read Hanks gave the area a new name – Floral Ranch. The limited amount of water and arable land available restricted settlement, and the area never supported more than a few families. Even these residents were related either by blood or marriage to Ephraim Knowlton Hanks.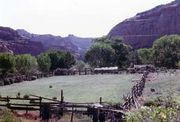 Eph Hanks died in 1896, but Floral Ranch remained in the family until 1916. The ranch then passed through several hands until 1940, when it was sold to Lurton Knee. It was renamed Sleeping Rainbow Guest Ranch, and after World War II additional cabins and a small motel were built to accommodate tourists. A variety of jeep and horseback tours were offered throughout Capitol Reef and the surrounding scenic regions. After Knee acquired the property, the Hanks' frame house was intentionally burned, and all of the other original buildings, granary, stable, corrals, etc., were knocked down and removed.
With the creation of Capitol Reef National Park and its subsequent enlargement, the main portions of the Sleeping Rainbow Guest Ranch property were purchased by the government in 1974 and 1978, except a small portion granted to the Knees as a life residency. Following Mr. Knee's death in 1995, the National Park Service acquired the remaining acreage, and the guest ranch facility is now used as a university-operated environmental education and research center." - by James H. Knipmeyer
Image Gallery
Name Directory