Feramorz Little
From Hanksplace
Relationship: Brother-in-law to Ephraim Knowlton Hanks & Harriet Amelia Decker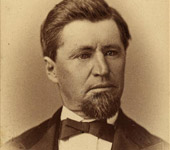 Vitals
Born: (14 Jun 1820) (Aurelius, Cayuga, New York, USA)

Died: (14 Aug 1887) (Salt Lake City, Salt Lake, Utah, USA)

Buried: (16 Aug 1887) (Salt Lake City Cemetery, Salt Lake City, Salt Lake, Utah, USA)
Spouse
Fannie Maria Decker m. (12 Feb 1846) (Nauvoo, Hancock, Illinois, USA)
Parents
James Little b, (2 May 1790) (Terordan, Cahans, Ireland)
Susannah Susan Young b. (7 Jun 1795) (Hopkinton, Middlesex, Massachusetts, USA)
Siblings:
Eliza Little b. (Jan 1818) (Aurelius, Cayuga, New York, USA)
Edwin Sobieski Little b. (22 Jan 1816) (Aurelius, Cayuga, New York, USA)
Feramorz Little b. (14 Jun 1820) (Aurelius, Cayuga, New York, USA)
James Amasa Little b. (14 Sep 1822) (Aurelius, Cayuga, New York, USA)
Biography
Little, Feramorz, mayor of Salt Lake City three consecutive terms, was born June 14, 1820, in the town of Aurelius, Cayuga, county, N. Y.
He migrated to Utah in September, 1850. His father James Little emigrated to America from Ireland early in the nineteenth century, and family records show that in the year 1690 his ancestors passed over from England to the Green Isle. The mother of Feramorz was Susan Young, a sister of Pres. Brigham Young. When Feramorz was but four years old his father died, leaving him with two brothers wholly dependent upon their widowed mother.
In the early days of "Mormonism" Susan Little joined the Church and moved west with her brothers who were all prominent members of the "Mormon" community. For a penniless youth the Great West had many attractions and Feramorz Little at the age of 23 decided to follow his mother and relatives. In 1843 he left his native State and traveled on horseback to St. Louis, Mo., where he met his brother after a separation of ten years. There and in Illinois he engaged in farming, school teaching and the grocery business.
At Nauvoo, in 1846, he married Fannie Maria Decker (sister to Lucy and Clara Decker who were the wives of Pres. Brigham Young.) In 1850 Feramorz, desiring to see his mother and relatives who had emigrated to Utah, contracted with Mrs. Livingston and Kincaid, non-Mormon merchants of Salt Lake City, to freight goods to this point from Ft. Kearney, on the Missouri river. At that time he was in business at St. Louis and not yet connected with the "Mormons". He arrived in Salt Lake City, Sept. 23, 1850.
His objective point was California, but in finding ample scope for his ambition in Utah, he became a Latter-day Saint and subsequently one of the Bishopric of the Thirteenth Ward, in which part of the City he resided. In 1858 he married Miss Annie E. Little and Miss Julia A. Hampton. Soon after his arrival in Utah he showed his industrial activity by building a dam, the first across the Jordan river, at a cost of $12,000, and constructing the first canal that took water from that stream for purposes of irrigation.
In the summer of 1851 he contracted with S. H. Woodson to carry the United States mail between Salt Lake City and Fort Laramie, a distance of more than five hundred miles, with no settlement and but one trading post-Ft. Bridger-between. His partners in the contract, which lasted until January, 1853, were Charles Franklin Decker and Ephraim Knowlton Hanks, his brother-in-law. During the two winters the mail carriers endured the greatest hardships, scarcity of food and fuel, blinding snow-storms and almost impassable mountains being a few of the difficulties encountered; but the trips were successfully made. Mr. Little's experience and forethought often saved his companions from suffering and death.
In 1856 he contracted to carry the mail between Salt Lake City and Independence, Missouri. The carriers now traveled with mules and a light wagon; formerly pack animals had been used. They encountered the usual obstacles, making at times but eight miles a day, and subsisting on parched corn and raw buffalo meat. The trip to Independence consumed three months. Arriving here early in 1857, Bro. Little with Bro. Hanks, found the inhabitants in a state of excitement over the sensational anti-Mormon reports set in circulation by Judge Drummond, who with other slanderers of the people of Utah had made the nation believe that the "Mormons" were in a state of rebellion against the government. These reports Mr. Little denounced as false. Having occasion to go to Washington, D. C. to collect his money for carrying the mails, he went on to New York where he wrote to the "Herald" of that city, refuting the foul calumnies.
Continuing his industrial career, Mr. Little conducted a flouring mill at the mouth of Parley's canyon, making his home there in the early days. In his youth he had worked in the leather business, and this doubtless led him to engage in tanning at that place, where he had as his partners in this industry his uncle, Pres. Young, and John R. Winder. He also carried on blacksmithing and shoe-making and established a school for his children and those of his workmen. He built five saw mills in the canyons of the Wasatch range, and for years carried on a prosperous lumbering business.
He was the builder of the Utah penitentiary on its present site. In 1859 he brought large quantities of merchandise from Omaha to Salt Lake City and in 1863 was appointed emigration agent for the Church. Under his supervision five hundred teams were fitted out, carrying three thousand emigrants, and involving an outlay of one hundred thousand dollars. In 1865 he, with Pres. Young, purchased the Salt Lake House, then the leading local hotel. It was on the east side of Main Street, about midway between First and Second South streets. He remained its proprietor for several years.
When the railroad came, he engaged as a contractor in building the Union Pacific Railroad, and subsequently was superintendent of the Utah Central and Utah Southern lines, holding the latter position until 1872, when he went abroad with Pres. Geo. A. Smith and party on their tour of Europe and the Orient. His extensive business interests were ably managed in his absence by his son, James T. Little.
Accompanied by his daughter Clara (now Mrs. H. B. Clawson, jun.) he left home with the Palestine party in November, 1872. The object of this visit to that land was to bless it, that the curse of bareness and desolation might be removed, and it again become fruitful and fitted for the return of the scattered tribes of Israel. Accordingly on March 2, 1873, Pres. Smith and party ascended the Mount of Olives, where the sacred ceremony was performed. Going and coming they visited the principal cities and places of interest in Europe, Egypt and Asia Minor. In France they had an interview with President Thiers and visited the French Assembly. The Littles returned home in May, 1873.
Two years later Feramorz Little and his brother James filled a mission to the Eastern States, calling upon numerous relatives in New York, and obtaining a genealogical record of their father's ancestors. Liberal in their views, they were generally treated with courtesy while preaching, and succeeded in removing from the minds of the people many false impressions concerning "Mormonism". Among other points of interest touched by their travels were the Hill Cumorah, in Wayne County, N. Y. and the Temple site in Jackson Co., Missouri.
During the last few years of his life Bro. Little occupied various positions of public trust. He was one of the Board of Regents of the University of Deseret and a member of the Salt Lake City council. In 1876 he was elected mayor of Salt Lake City, serving in that capacity, as stated, for three consecutive terms. During the period of his mayoralty the Salt Lake and Jordan Canal was constructed under his supervision, the streets improved, the water works extended, and the purchase of Liberty Park and Pioneer Square effected.
In the latter part of his life, he gave special attention to banking. He was a director of the Deseret National Bank and virtually one of its founders. At the time of his death he was its vice-president. He was also a director of the Ogden National Bank, and was likewise interested in Z. C. M. I. In June, 1881, Bro. Little sustained a severe loss in the death of his wife, Fannie. As already stated, he had married two other wives; but he was again a single man when he married Rebecca E. Mantle.
While visiting the Blackfoot Ranch, of which he was president, he was stricken with a severe illness, and it was aggravated by the journey home, which required three days. Typhoid fever set in, terminating his earthly existence Aug. 14, 1887. His death was universally regretted.
He was recognized as one of Utah's ablest business men and foremost citizens. As a man of honesty and integrity, he manifested eminent administrative ability, and marked devotion to the public welfare. He was loved by both rich and poor for his keen sense of justice and great kindness of heart. Disliking ostentation, he distributed large sums in benevolence and charity of which only his family and most intimate friends were aware. Among the evidences of his philantropic spirit is a row of comfortable cottages, built by him for the poor of the Thirteenth Ward and still serving the purpose for which they were erected. Feramorz Little was essentially a self-made man, indebted for his success to a kind Providence and the sterling qualities of his nature. (Principally culled from Whitney's History of Utah).
Jenson, Andrew, LDS Biographical Encyclopedia, Vol. 2, pp. 485-7
Links
Name Directory