Elizabeth Georgina Quilley
From Hanksplace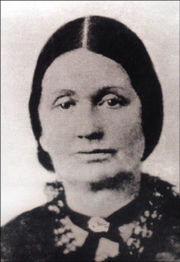 Relationship: Mother-in-law to Ephraim Knowlton Hanks & Thisbe Quilley Read
Association: Member of the Martin Handcart Company. When son, Walter Pyramus Read, became lost outside of Iowa husband, Samuel George Read, and son, Samuel Milford Read, turned back to Iowa to search. Samuel and Georgina divided up their monies. As Georgina was the company nurse on the trek, she continued with her daughters with the anticipation that the men would catch up.
Vitals
Born: (22 Sep 1805) (, Basing, Hampshire, England)

Christened: (28 Sep 1806) (, Basing, Hampshire, England)

Died: (5 Oct 1882) (Nephi, Juab, Utah, USA)

Buried: (6 Oct 1882) (Salt Lake City Cemetery, Salt Lake City, Salt Lake, Utah, USA)
Plot: Grand Aveune, Plat J, Block 7
Spouse
James Dale m. (23 Oct 1825) (St. Luke, Finsbury, London, England)
Spouse
Samuel George Read m. (abt 1836) (St. Dunstan's Church, Stepney, Middlesex, England)
Children:
Spouse
John Rodwell m. (10 Jan 1863) (Salt Lake City, Salt Lake, Utah, USA)
Parents
William Quilley b. (10 Feb 1769) (, Bramley, Hampshire, England)
Hannah Evemey c. (28 Dec 1783) (, Basing, Hamphire, England)
Image Gallery
Martin's Cove, tree stump from firewood of 1856 - photo taken by Sherry Smith

1860 Census, Georgina Read recorded as Clara Read, same 1st Ward as children Thisbe and Walter Read (see Council Bluffs)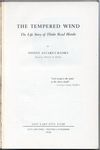 Books
The Tempered Wind - By Sidney Alvarus Hanks. A biography of Thisbe Quilley Read. Hard copy available in the Special Collections of the BYU Harold B. Lee Library. Call number BX 8670.07 .H194.
Links
Productions
Mormon Handcart Production - A theatrical re-enactment, dedicated to the Martin and Willie Handcart Companies of 1856 and their Rescuers, both past and present.
Sweetwater Rescue - From 1856 to 1860, ten handcart companies traveled to what they considered Zion. Eight crossed the plains successfully. Two—the Willie and Martin Companies—met with a wintry disaster in 1856, as did the Hunt and Hodgett Wagon Trains trailing behind them. The rescuers from the Salt Lake Valley faced the same horrific snows.
Name Directory