Elijah Hanks
From Hanksplace
Relationship: Faternal grandfather to Ephraim Knowlton Hanks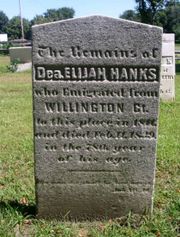 Vitals
Born: (30 Aug 1761) (Mansfield, Tolland, Connecticut, USA)
Died: (11 Feb 1839) (Madison, Lake, Ohio, USA )
Buried: (Madison South Ridge Cemetery, Madison, Lake, Ohio, USA)
Plot: Section E, Row 3, Marker 3
Spouse
Mary Walker m. (14 Aug 1782) (Ashford, Windham, Connecticut, USA)
Children:
Parents
Deacon John Hanks b. (5 Oct 1730) (Plymouth, Plymouth, Massachusetts, USA)
Tabitha Hall b. (9 Jun 1734) (Mansfield, Tolland, Connecticut, USA)
Siblings:
History
Revolutionary Soldier
1761-1839
Deacon Elijah Hanks was born in Mansfield, Conn., 30 August 1761. He served in the "Connecticut Line" in the Revolutionary War for eight months, enlisting 10 March 1778, in Capt. Allen's 3rd Connecticut Regiment, of which Samuel Wylly was C.
14 August 1782, he was married to Mary Walker of Ashford, Connecticut, who was born 14 August 1763. Their children were Joseph, Elijah, Benjamin and John (twins), Esther, Clorinda, and Patty.
9th September 1811, they left Wellington, Connecticut for Madison, Lake County, Ohio, arriving there the 3rd of October when they immediately went to work to put up a log house, into which they moved 8th November, on the same farm which has ever since been in the possession of the family. (see Fred Elmer Hanks for most recent home)
Other families moving into the neighborhood found a shelter at Deacon Hanks' hospitable home until their house were ready for occupancy.
He died 11 February 1839, at the age of seventy-five and lies buried in the cemetery on the hill in sight of his home.
His son, Benjamin Hanks, and a twin to John Hanks, is the next one to own the farm and raise their family. He married Martha Knowlton, and they raised a large family. The old log house has served its purpose, and a nice large house now adorns the farm. He was a splendid blacksmith, and his son, Ephraim Knowlton, learned the trade and worked with his father. He lived and died on the farm and was buried in the same cemetery.
We find the last one to live and raise a family there was his son, Benjamin William Hanks, who married Cornelia Ann Dewey, his brother's, Otis Holbrook Hanks, widow. They lived there, raised their family and died there, being buried in sight of their home. The farm was left to Fred Elmer Hanks, Otis' son, who married Carrie Duesler but had no children; and to Walter Dewey Hanks, their only living child, who left and went to San Francisco. So they had to sell the farm in 1930, when Retta Arthella Hanks was on her mission, and thus the farm passed to others after 119 years of ownership. Father also visited this place before Uncle Ben died.
Copied from Revolutionary Soldiers, buried in Lake County, Ohio.
Religious
The original pioneers were from the New England States and brought up to attend worship, and were disposed to transfer their religion to their new homes. They accordingly, through Lemuel Kimball, invited the Rev. Giles Cowles, of Austinburg to come and preach; which he did in June of 1813, in the double log house of Jarius T. Andrews, which stood a few rods southeast of Geo. Fisher's present residence. This was the first preaching of the kind ever had in the town. Judge Tappan and the Harpers of Madison Four Corners, afterwards Unionville, refused to hear him preach on account of his being a federalist. (After penning the above I had a conversation with Elder Asa Turney, who says his father moved to Ohio in 1810, and meetings were held at his house early in 1811 and continued until the Block School House was built. They had preaching sometimes, and he remembers the Rev. Joseph Badger, Jonathan Leslie, and Elder Hanks, as having preached there. He says that in the absence of preaching there would be reading, Dea. Hanks or Dea. Tisdel leading. Old Mr. Turney and wife were Baptists.)
Homestead

Ancestral Trail

Elijah Hanks family
Madison pioneers

BICENTENNIAL SERIES
By Mildred Steed
New Connecticut
Chapter DAR
29 May 1976


Elijah Hanks 1761-1839, Elijah Hanks was born in Mansfield, Conn., Aug. 30, 1761. He was married on Aug. 14, 1782 to Mary Walker of Ashford, Conn., who was born Aug. 14, 1763.

Both are buried in the Madison Township Cemetery, west on South Ridge Road, near their homestead.

On Sept. 9, 1811, Elijah Hanks with his wife, four sons and three daughters left Willington, Conn., for Madison.

They arrived on Oct. 3, and went to work building a log cabin on the same farm which remained in the Hanks family for many years.

They settled in Township 11, range six, on the South Ridge Road, west.

Other pioneers coming to Madison always found friendly shelter in the Hanks home while they built their own cabins.

Azariah Hanks, the pioneer preacher who founded several Baptist churches in various parts of Ohio, lived with Elijah for some time.

Elijah Hanks served in the "Connecticut Line" in the American Revolution for eight months, enlisting March 10, 1778 in Captain Allen's Company, third Connecticut regiment of which Samuel Wylly was colonel.

Mary Hanks, widow, received a war pension in 1840 when living with John Young in Perry. The certificate was number W-4688.

Their children were: 1.) Joseph B. Hanks; 2.) Elijah R. Hanks; 3.) Esther Hanks, who married Mr. Young; 4.) Patty Hanks; 5.) Benjamin Hanks, twin, married Martha Knowlton; 6.) John Hanks, twin, married Rosanna Hale; 7.) Clorinda B. Hanks, married Mark Young.

Benjamin Hanks was referred to as Captain Benjamin Hanks. Records show that Keziah Walker also came to Ohio, in 1811, from Willington, Conn., probably a relative of Mary Walker.

A member of the Daughters of the American Revolution, Mrs. Emma Louise Parker Williams, born in Madison, was a great granddaughter of Elijah and Mary Walker Hanks.

The cemetery inscription reads: Hanks-the remains of Deacon Elijah Hanks, who emigrated from Willington, Conn., to this place in 1811, and died Feb. 11, 1839 in his 78th year. In memory of Mary, his wife, who died Sept. 2, 1844 in her 81st year.


Published in "The Telegraph" 29 May 1976
Gallery
Elijah Hanks, entry 6; Thisbe Quilley Read journal entries, page 1 - possession of Sherry Smith
Links
Name Directory