Edwin Sobieski Little
From Hanksplace
Relationship: Husband of Harriet Amelia Decker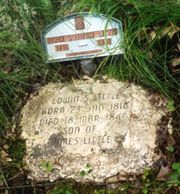 Vitals
Born: (22 Jan 1816) (Aurelius, Cayuga, New York, USA)

Died: (18 Mar 1846) (Richardson's Point, Lee, Iowa, USA)

Buried: (18 Mar 1846) (Near Keosauqua, Van Buren, Iowa, USA)
Spouse
Harriet Amelia Decker m. (22 Mar 1842) (Winchester, Scott, Illinois, USA)
Child:
George Edwin Little b. (6 Aug 1844) (Nauvoo, Hancock, Illinois, USA)
Parents
James Little b, (2 May 1790) (Terordan, Cahans, Ireland)
Susannah Susan Young b. (7 Jun 1795) (Hopkinton, Middlesex, Massachusetts, USA)
Siblings:
Eliza Little b. (Jan 1818) (Aurelius, Cayuga, New York, USA)
Edwin Sobieski Little b. (22 Jan 1816) (Aurelius, Cayuga, New York, USA)
Feramorz Little b. (14 Jun 1820) (Aurelius, Cayuga, New York, USA)
James Amasa Little b. (14 Sep 1822) (Aurelius, Cayuga, New York, USA)
History
Edwin Sobieski Little, son of Brigham Young's sister, Susannah (Young Little) and (James Little), was married to Harriet Amelia Decker in her father's home by Joseph Young, on the 22nd of March, 1842. Edwin was 26 years of age and even though Harriet was only 16, she was well trained in home making.
Harriet's mother and father separated the 9th of March, 1843. She later married Lorenzo Dow Young, brother of Brigham Young. Harriet's sisters, Lucy Ann and Clara Decker married Brigham Young. Her sister, Fanny, married Feramorz Little, a brother of her husband; so Harriet and her family were closely associated with the leaders of the Church.
During the time of the exodus from Nauvoo Harriet and Edwin with their son, George, crossed the Mississippi River and it is recorded in Harriet's history, "that Edwin was helping his Uncle Brigham Young across the river with the wagons, when the ice broke through throwing him into the icy water. He gained shore in safety but was chilled and wet."
When the Saints arrived at Richardson's Point, fifty-five miles from Nauvoo, they remained there a few days and several of the brethren found work for which they received corn to sustain their teams. It was here Edwin Little was taken ill with lung fever. He was removed to a house two miles from camp but his condition continued to grow worse and he died on the 18th of March, 1846. He was buried near the present site of Keosauqua, Iowa, in a grove of trees a few rods from the road. The Saints stayed in Winter Quarters the winter of 1845–46.
Harriet's mother, Harriet Decker Young, her brother, Isaac Perry Decker, and sister, Clara Decker Young, were permitted to go with the first company. Harriet Amelia and her little son, Edwin, came with the second company of 1847 with Jedediah M. Grant as captain. It is told that she had a small box on the back of her wagon which contained three hens. These hens kept her supplied with eggs while crossing the plains. She, and her son, arrived safely in the valley the 2nd of October, happy to be reunited with her mother and other relatives.
Name Directory