Clara Ellen Hanks
From Hanksplace
Relationship: Daughter of Ephraim Knowlton Hanks and Thisbe Quilley Read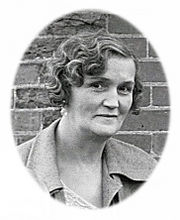 Vitals
Born: (9 Aug 1888) (Pleasant Creek, Wayne, Utah, USA)
Died: (30 Dec 1969) (Burley, Cassia, Idaho, USA)
Buried: (3 Jan 1970) (Burley, Cassia, Idaho, USA)
Spouse
Robert Kitley m. (9 Mar 1905) (Colusa, Colusa, California, USA)

Children:
Arthur Robert Kitley b. (20 Dec 1905) (Princeton, Colusa, California, USA)
Henry Ray Kitley b. (22 Jun 1907) (Thurber, Wayne, Utah, USA)
Read Hanks Kitley b. (27 Sep 1909) (Thurber Wayne, Utah, USA)
Claude Ephraim Kitley b. (2 Feb 1912) (Princeton, Colusa, California, USA)
Spouse
Hyrum Emmons Church m. (2 Oct 1915) (Pioche, Lincoln, Nevada, USA)

Children:
Bessie Church b. (31 Mar 1917) (Beaver, Beaver, Utah, USA)
Beth Church b. (31 Mar 1917) (Beaver, Beaver, Utah, USA)
Spouse
LeRoy Frederick Saunders m. (28 March 1936) (Jerome, Idaho, USA)
Children: None
Spouse
Howard Bodenhamer m. (14 Apr 1953) (Elko, Elko, Nevada, USA)

Childen: None
Parents
Ephraim Knowlton Hanks b. (21 Mar 1826) (Madison, Lake, Ohio, USA)
Thisbe Quilley Read b. (25 Apr 1845) (Stepney, London, Middlesex, England)
Siblings:
Sketch
Clara Ellen Hanks was born at Floral Ranch, Wayne County, Utah, 9 August, 1888. She was the 12th child of Thisbe and Ephraim. Many people say she looked like her mother. She also inherited many of her fine qualities. Very neat in her appearance, precise in every thing she does and has a happy disposition.
Clara's father, Ephraim, built a good house of sawed lumber on the ranch and it was completed just before she was born. Two fireplaces were built in to help keep it warm. One fireplace was in the room where her father kept his books and gave members of the LDS Church their patriarchal blessings, since this was the office he held. Her father died when she was nearly eight years old. In the winter time they lived in Caineville so they could attend school and enjoy community activities.
After her mother's death, 23 July 1903, Clara went to live with her sister Nettie and Henry Giles who were living in California. There she met Robert Kitley. They were married 9 March, 1905 in Colusa, California. Their first son, Arthur Robert, was born at Princeton near there.
Shortly after that they came back to Wayne County and lived at Thurber where their two sons, Henry and Read, were born. Read lived only six months and is buried at Bicknell. They returned to Princeton, Colusa, California, where their fourth child, Claude Ephraim Kitley was born 2 Feb., 1912. Arthur was killed in Salt Lake while crossing a street after a mutual party. He is buried in Salt Lake City. Henry died the 12 of April 1933.
Claude married Thora Pickett 26 April 1936. They have two boys Trent and Steven. The past year, 1959, they built a new home in Burley where they have lived for several years.
Later, Clara married Ephraim Hyrum Church. They had twin girls Beth and Bessie. They were born in Beaver, Utah. They had pretty blonde hair and were cute as could be.
Their son Sidney Alva Church, was born in Salt Lake City. Beth married Howard Lauren Schwab of Eden, Jerome Co., Idaho They had a son, Richard, born 9 Jan., 1936. He died at birth. Then Beth died on 21 Jan., 1936. She is buried near her baby in Twin Falls, Idaho.
Bessie married James Howard Boden of Twin Falls, Idaho. They lived in Burley, Idaho and are the parents of seven children.
Sidney is married and lives in Nevada.
Ephraim Hyrum Church died in 1933, Bakersfield, California. Later Clara married Howard Bodenhamer and they lived in Burley, Idaho. They built a big new home about 1956, on a small acreage just south of town. On it they have a beautiful flower and vegetable garden, a pasture for their thoroughbred sheep, chickens for eggs and meat.
Clara cans and freezes food from their garden, and they have a busy time. She is an artistic cook and people enjoy their hospitality.

Verses by Golden L. Jackman

Aunt Clara was born where the wild lilly grows.
And the cliffs look like pink salmon fish stood in rows.
She had vim and to spare when in youth she would roam
Over cliffs and high mesas to the Navaho's home.
The clear morning sun'rose like jewels in her eyes.
And her sun-kissed cheeks looked sweet as baked apple pies.
We home that in Heaven's flower garden she grows
And blooms just as sweetly A Celestial Rose.

- Descendants of Ephraim Knowlton Hanks, Compiled by Golden Leone and Teton Hanks Jackman.
Image Gallery
Thisbe, Sidney, Martha, Amy, Lillie, Arthur, Mary Ellen Stewart Hanks, Nettie, Clara Hanks - Teton Hanks Jackman Collection
Name Directory