Betsey Tisdel
From Hanksplace
Relationship: Faternal aunt in law of Ephraim Knowlton Hanks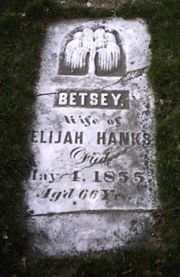 Vitals
Born: (25 Aug 1807) (Willington, Tolland, Connecticut, USA)
Died: (04 May 1855) (Bronson, Branch, Michigan, USA)
Buried: (Bronson, Branch, Michigan, USA)
Spouse
Elijah R. Hanks m. (4 Oct 1807) (Ashford, Windham, Connecticut, USA)

Children:
Lucinda Hanks b. (22 Dec 1809) (Willington, Tolland, Connecticut, USA)
Joseph Hanks b. (after 1810)
Mary Hanks b. (29 Jun 1813) (Ashford, Windham, Connecticut, USA)
Bethia Hanks b. (after 1812)
Miner Hanks b. (after 1813)
John Hanks b. (after 1814)
Benjamin Hanks b. (after 1815)
Danile P. Hanks b. (after 1816)
George Hanks b. (after 1817)
Parents
Curtis Tisdel (Antisell) b. (29 Jan 1779) (Willington, Tolland, Connecticut, USA)
Sarah Parker b. (2 Feb 1783)
History
Elijah R. Hanks
In 1810 migrated to Ohio settling in Geauga, now Lake County, where the rest of Elijah's father's family moved the following year. Here they located on a tract of land five miles west of the town of Madison near the present village of Perry and here the other seven children were born.
By trade Elijah was a blacksmith and during his residence in Ohio combined that occupation with farming. Children of Elijah having acquired a tract of 130 acres of land. Like many of the Hanks family he was a skillful workman and did excellent work in forging iron tools; a butcher knife which he made for his daughter Mary in 1835. Lured by the glowing accounts of prospectors who had been in southern Michigan and also, perhaps, on account of the fascination which a new country had for his adventurous mind, he decided to sell his Ohio home and move to the Michigan territory.
In April 1835 with his wife and children and his married children, Lucinda Downing, Mary Holbrook and Bethia Vesey, and their families, he started and finally located where the town of Bronson now is. For this journey, which occupied about two weeks, six wagons were used drawn by oxen and three by horses. With three thousand dollars in money which he had with him when he landed in Michigan, he purchased 132 acres of partly cleared land and also bought one hundred acres for each of his daughters. This land, which was purchased from a Mr. Bronson, from whom the town of Bronson was afterwards named, included all of the land on which the town of Bronson was built.
To his new home, Elijah had brought from Ohio not only a large quantity of household stores, but also several head of cattle and six horses so that his family was better prepared for their new life than most of the settlers located there; but within three weeks after he arrived and before he had fairly got settled in his new home he was taken sick and died.
He was a man of sound judgment and his council was often sought by his friends and neighbors. He was generous and kind to all and his death was a terrible blow to his family; and happening at the time it did, was a particularly unfortunate occurrence to his wife and the younger children.
Image Gallery
Links
Name Directory