Benjamin Hanks 1665
From Hanksplace
Relationship: Faternal 3rd great grandfather to Ephraim Knowlton Hanks
Association: The name of Hanks is well known in the little town of Malmesbury. Many have been commoners, Capital Burgesses, artists and musicians. People there know that their town is the ancestral home of Nancy Hanks Lincoln mother of Abraham Lincoln.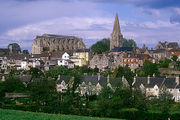 Vitals
Born: (1665) (Malmesbury, Wiltshire, England)
Died: (09 Jan 1755) (Easton, Bristol, Massachusetts, USA)
Spouse
Abigail Heiford m. (08 Mar 1700) (Braintree, Norfolk, Massachusetts, USA)
Children:
Abigail Hanks b. (8 Jun 1701) (Pembroke, Plymouth, Massachusetts, USA)
Benjamin Hanks b. (16 Jul 1702) (Pembroke, Plymouth, Massachusetts, USA)
William Hanks b. (11 Feb 1703) (Pembroke, Plymouth, Massachusetts, USA)
Nathaniel Hanks b. (15 Apr 1704) (Pembroke, Plymouth, Massachusetts, USA)
Anna Hanks b. (17 May 1706) (Pembroke, Plymouth, Massachusetts, USA)
Mary Hanks b. (19 Feb 1707) (Pembroke, Plymouth, Massachusetts, USA)
John Hanks b. (22 Oct 1709) (Pembroke, Plymouth, Massachusetts, USA)
Elizabeth Hanks b. (5 Mar 1711) (Pembroke, Plymouth, Massachusetts, USA)
Rachel Hanks b. (2 May 1712) (Pembroke, Plymouth, Massachusetts, USA)
Joannah Hanks b. (9 Oct 1713) (Pembroke, Plymouth, Massachusetts, USA)
James Hanks b. (24 Feb 1715) (Pembroke, Plymouth, Massachusetts, USA)
Jacob Hanks b. (abt 1717) (Pembroke, Plymouth, Massachusetts, USA)
History
The following is from "HANKS AND OTHER ANCESTORS OF MINE", by Edgar Freeman Hanks:
Benjamin (1) Hanks, husbandman, was born in England, most probably in the hamlet of Donnington in the parish of Stow-on-the-Wold, county Gloucester, about 1665.
According to an entry in a notebook of his friend, Richard White, Benjamin "came from London October 17, 1699". (In the same fine handwriting as his proven will, Richard White's notebook is still in existence and contains many items of interest). Benjamin landed at Plymouth, Massachusetts and settled in the western part of Duxbury which part later, in 1712, was established as the town of Pembroke.
Apparently very soon after his arrival in New England, in 1700 when he was thirty-five, Benjamin married Abigail Heiford, aged twenty-one, at Braintree, Massachusetts. Abigail was born in 1679, the daughter of John Heiford (who had lived in Braintree since 6 April 1667) and Abigail (Albins) Heiford who were married in 1678.
Twelve children were born to Benjamin and Abigail (Heiford) Hanks in that part of old Duxbury established in 1712 as Pembroke. Their births (except that of Jacob) were recorded at Pembroke.
Abigail (Heiford) Hanks died at Pembroke 6 September 1726 in her forty-seventh year. She may have been worn out with child-bearing, cooking , washing, spinning, sewing and churning butter while she reared and managed a family. Yet at the time of her death, none of the girls were married and all six of them over thirteen. Jacob must have been only about nine years old when she died.
Six months after his wife Abigail died, Benjamin married Mary (----) Ripley at Pembroke, Massachusetts on 23 March 1727. Mary was the widow of William Ripley of Bridgewater, Massachusetts. Evidently Benjamin needed more than daughters to make a home. There is no record of any children by this second marriage. When it took place, Mary was close to fifty and Benjamin was sixty-two. All the Massachusetts towns mentioned in this account of Benjamin (1) Hanks are within the south shore region of Massachusetts Bay surrounding Plymouth.
The word "husbandman" means farmer. To try to visualize Benjamin (1) Hanks, one must remember that he grew to manhood in the 17th Century England during The Restoration in the reigns of Charles II and James II. He sailed to Plymouth in the later years of the reign of William and Mary of Orange. There is no real glimpse into the character of this Benjamin nor any description of him. But he must have been a bold man, certainly self-sufficient and healthy, with a constitution like iron. According to various deeds, duly recorded and authenticated, Benjamin bought various tracts of land and sold others in "the Major's Purchase", namely lots 35 and 68. When selling the latter property, it is noted that Mary signed her name but Benjamin made his mark. At the time, he would have been close to seventy and possibly his fingers were stiff. But perhaps he never could write, although his friend, Richard White, wrote very well indeed.
Queen Anne of the House of Stuart was on the English throne during the period when Abigail bore most of his children and Benjamin lived on through the reign of George I of Hanover and all but five years of that of George II.
Benjamin may have been a Puritan or at least lived in that atmosphere. Being a farmer in the first half of the 18th Century meant not only planting but animal husbandry. Horses, cattle -- cows, sheep, hogs - - fowl, livestock of all kinds. And slaughtering, butchering, salting, smoking and grinding meal. He lived in a land of low hills, coastal dunes, marshes and tidal creeks. The streams of Pembroke run off into salt water and many of them are tidal a good way inland. There were herring runs in spring.
After his oldest son, Benjamin (2), moved from Plymouth to Mansfield, Connecticut in 1746, Benjamin (1) moved to Easton in Bristol County, Massachusetts where his youngest son, Jacob, had lived since 1744. There Benjamin (1) built himself a house when he was eighty-one. Benjamin (1) Hanks died at Easton 9 January 1755 "in the ninetieth year of his age as he saith" (Easton Records). Mary died five years later at Easton on 21 October 1760 in her eighty-third year (Easton Records).
Links
Image Gallery
Name Directory