Azra Hinckley's Account of the Rescue
From Hanksplace
A more detailed account of Arza's experiences is given by a daughter, Luna Ardell Hinckley Paul. It has some significant differences from the account given by Ephraim Hanks, but it seems plausible enough to justify including in the record.

At the time of the rescue, Arza Hinckley was Brigham Young's personal teamster. A week after the first rescuers left, Brigham Young asked Arza to drive him toward the handcart companies. When they got to Big Canyon Creek, Brigham Young became too ill to continue, so they returned home.1 Several days later, Daniel Wells asked Brigham Young if he could spare Arza to go help with the rescue. Brigham Young assented and offered the use of his mules. Arza and a friend, Dan Johnson, each left Salt Lake City with a four-mule wagon loaded with supplies.
When Arza and Dan reached Fort Bridger, they were delayed for a few days by a blizzard. Soon after they got back on the trail, they met two companies of rescuers who were returning home. These men explained that they felt the rescue was futile because they had gone all the way to Pacific Springs and had not received any word of the handcart company. Although Arza does not mention these men in his account, his daughter identifies one of them as Ephraim Hanks.
After listening to the men's explanation for returning home, Arza said, "I will make a proposition with you. There is a good place to camp just a short distance from here. You go on and camp and wait until you hear about the carts, and Dan and I will go and find the handcarts."
"What makes you think you can find them when we couldn't?" one of the men asked.
"Brigham Young sent me to find the handcart folks, and I will find them or give my life trying to find them," Arza answered."2
According to this account, Eph Hanks was troubled when Arza Hinckley left. He kept thinking about the voice in the night that had called him to help the handcart companies. He was also stirred by Arza's determination to press forward. He soon told his friends that he was leaving to catch up with Arza and Dan. Riding one horse and leading another, he met them at the Green River crossing. "I hoped you would follow us," Arza told him.
One of Brigham Young's mules had died, and the others were struggling, so the men decided that Dan Johnson should take them back to Fort Bridger for shelter.3 Eph Hanks hitched his horses to one of the wagons, and he and Arza continued forward on their own. They went more than 100 miles—50 miles past Pacific Springs—before meeting up with the Martin company.
On November 10, Eph and Arza made camp in the afternoon because their mules needed to rest.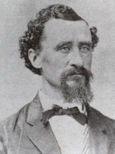 Arza stayed with the mules while Eph went hunting buffalo. After hunting for a long time, Eph killed a large cow buffalo. By the time he packed the meat on his horses, it was almost dark.
Eph was preparing to ride back to camp when he noticed a flicker of firelight in the opposite direction. Thinking the light be from the Martin Company, he rode toward it. As he got closer, he saw more lights, and his heart began to pound. Shouts of joy rang through the air as he rode into camp.
After Eph distributed the meat from his horse, he returned to his camp with Arza, who was so elated he couldn't sleep. Early the next morning, Arza and Eph drove their provision wagons into the handcart camp. Both men then proceeded to care for the sick and help the company all the way to the Salt Lake Valley.4
James Bleak was so grateful to Arza Hinckley that whenever he saw him, he put his arms around him and said, "My savior."5
Notes
1. Bartholomew and Arrington, Rescue of the 1856 Handcart Companies, 31.
2. Earl S. Paul, "The Handcart Companies of 1856 and Arza Erastus Hinckley," Church archives, Salt Lake City, Utah, 9.
3. Ibid., 16.
4. Ibid., 17-21.
5. Ibid., preface, 3.

Links
Name Directory