Arthur Eugene Hanks
From Hanksplace
Relationship: Son of Ephraim Knowlton Hanks & Thisbe Quilley Read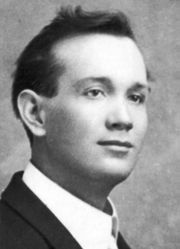 Vitals
Spouse
Mattie Taylor Little m. (30 Dec 1906) (Haden, Fremont, Idaho, USA)
Children:
Parents
Ephraim Knowlton Hanks b. (21 Mar 1826) (Madison, Lake, Ohio, USA)
Thisbe Quilley Read b. (25 Apr 1845) (Stepney, London, Middlesex, England)
Siblings:
Sketch
Arthur Eugene Hanks Tells His Own Story
30 Nov. 1959 -- Provo, Utah


I was born in the sticks and blue grass country of Burrville, Sevier, Utah. When the sun came out on the morning of May 14, 1882, it opened all nature to a heavenly forecast of Spring. The subject of this writing has known nothing but spring ever since. My first trip was when I was six weeks old. It was over mountainous trails into a land of no-where. We kicked the cliff-dwellers out of their holes in the 600 foot high cliffs and established our selves a home on pleasant creek. This creek is a tributary of the Fremont River and served as a baptismal fount for me when I was eight years old. Many others enjoyed its clear, cool waters for the same purpose as well as a place in which to fish and swim. This creek runs from south to north east thru the canyon, Floral Ranch and to Colorado River. Nestled within the boundaries of gigantic cliffs on the east and north is this beautiful valley of birds, bees and flowers. Like an oasis in the desert, the valley provided a home like influence for six families. They were Joseph Wright, Urban Stewart, Ben Perkins, Johnie Giles, Jorgan Jorgansen, and Dr. Woolman besides the Ephraim Knowlton Hanks family of which I was the tenth child.
My first recollection of my father was of him riding a vicious wild horse. I was afraid he'd fall off, I wanted to ride behind him to hold him on. Later I learned to ride the more Kind, kind and at 15 I could ride any they helped saddle and lead out to the sand where it was easier lighting, in case of too high-ups and twisted turns coming down. A little burrow we called Black Jack learned me more tricks how to cling to mid air than did all the other wild horses. One day he threw me into a bed of prickly cactus; he nor I ever settled for that only I charged it up to experience of profit and loss,--I lost. While father lived he always enjoyed the sport of breaking wild horses. I remember one remark he made, "Well boys, when you can't ride'em just give me a chance.
One day he saddled up a half-broke Tantlas outlaw; I on my pony went along just for the ride. As we got well up in the west canyon the horse wanted to drink. As he bowed his neck to get his nose to the water father gave him a loose rein and all of a sudden, before the reins could be taken up he made a high jump ahead, then south, south-west and north east by east and father took a cool bath in the creek. We cornered him and father said, "Well we will just go out on this sand patch and see who is the best man, you, old boy, caught me off guard. At the mounting father stuck him with both spurs in the shoulders and the ride began. For a while I didn't know who to bet on but a little later the cinch strap broke and father and the saddle took leave from the cool bath into the warm sand. He called it square and when the strap was repaired and father mounted again he said, "Now if you'll be good I'll try to ride you unless you start some of that rough stuff. That was the last wild outlaw mustang father ever rode. He said to the bronk, "You are six and I am sixty-six, let's call it quits".
Father died June 9, 1896. Mother followed him July 23, 1903. They are both laid to rest in the Caineville Cemetery.
In 1905 I gathered up all my belongings, 260 cows and 28 horses, most of them saddle broke and left the Floral Ranch on my birthday, May 14. In company with my nephew, Jack Allen, George Carrell and Frank Noys, I started for Canada to make a sale. These men were fine fellows, they knew how to handle the live stock. We had several very interesting experiences, too many to mention here. I did a lot of selling both cattle and horses, and later went into the sheep business.
At Haden, Teton Basin, I married Mattie Little, daughter of George E. and Martha Taylor Little. George Little was the son of my father's first wife, Harriet Decker, and had been raised by my Ephraim Knowlton Hanks father. This family had a large picture of my father Ephraim hanging in their front room. They called him 'Pap Hanks' so I felt very much at home with them.
Our first baby was born the 5th of Dec. 1907. We named her Teton after the majestic Teton Peaks.
In 1910 we went down to the Floral Ranch. The next fall we went back up to Haden, Idaho where our second daughter, Floretta was born, 18 Dec. 1911. In March of the next year we went back to the ranch in Wayne Co, Utah. We raised a fine garden, fruit, grain, hay and sugar cane, as well as live stock. In the fall, we made sorghum from the cane and sold it for $1.00 a gallon. Also sold some fruit.
It was hard for Mattie to be so far from other families as we were the only family on the ranch now. We drove to Fruita for church each Sunday. This was eleven miles. Our third child, Raymond Eugene Hanks was born at Floral Ranch 4th of March, 1914 while I was in Torrey. I had taken a load of things to Torrey as we planned on being there when the baby arrived. I had built a telephone line and installed a phone at the ranch three days before. The Jorgenson family was going to stay at the ranch and take care of things while we were away. Mrs. Jorgenson was already there but was not very helpful. She did make good use of our new phone, however, and called me at Torrey, to bring the mid-wife. Accordingly, we took a fast ride up and down the gullies, but Ray had already arrived when we got there, and all was O.K.
We moved to Fruita in the winters, so that Teton could go to school. The flood waters took so much of the farming land of the ranch that we sold it in Sept. 1916 and bought a 40 acre fruit farm six miles south of Nampa, Idaho. At this place Lincoln and Read were born. I learned the comforts of life and the sweetness of service in the L. D. S. Church. The last position I held there was 1st counselor to Parley M. Griggs in the Bishopric.
In 1925 we moved to Magna, Utah then to Salt Lake, then to Monrovia California. In the fall of 1939 we moved to Provo Utah where we still live and enjoy the Manavu Ward and the community in general. I sell insurance stock for Pacific Western Insurance Co. of Salt Lake; I am owner of Western Pure Foods Co. Have Mining Interests in Wayne County, Utah. We have five children, 19 grand children, and 13 great grand children. All Well, and happy. A. E. HANKS.

COMMENTS by their daughter Teton H. Jackman

My Daddy is six feet tall, straight as can be, weights 180 lbs., His hair was black, now graying and sparse on top, Eyes light brown. He takes great pride in his appearance; is always happy and very optimistic. He is very generous, would share his last cent with anyone.
On Christmas Eve we all gather at Mother's and Dady's home for exchange of gifts, program and comparing children and experiences. Dady entertains with songs, stories and step dances.
Mother serves refreshments and a treat for all. Last year, 1958, their big front room was bulging at the seams with 45 of us. But we had a merry time. Mother has taught me that "You are no bigger than the things that annoy you" and that 'NO one can hurt you verbally unless you think so within yourself". She had great faith and her prayers have been heard and answered indeed, many times. Even tho we live 45 miles south of the Salt Lake Temple she manages to go once or twice a week and is serving as chairman of the Temple Committee in Manavu Ward.
We enjoy having Mother and Daddy living just 2 ½ blocks from us.

COMMENTS by their son Raymond Eugene Hanks

Father is a man you can't help but like. He is as friendly a man as I know. He is generous at heart. He keeps himself well groomed and is always neat in appearance.
Father always keeps his property up. His car is kept washed. I remember as a boy in Nampa, Idaho his farm property was well worked his horses were curried and groomed. I think I shall always remember the lesson he taught me as a child, as he returned home one time to put my shoes and socks together.
Father seemed to always have a great love for his father, Ephraim K. He always enjoys relating experiences about him. When I was in the mission field in 1936-37 I wrote a little poem to father for his birthday. It went something like this:
"I like to tell the boys about my grandfather Ephraim.
The things he went through from day to day 'is hard to believe 'em.
He was a brave pioneer scout, and friend to the Indians round about.
When Brigham wanted a man, Ephraim would say "I can".
He must have been a good man and this I would like to add;
He had to be a good man to be the father of my Dad.
Father never gives up. He always has a spirit to stay YOUNG.

Comments by their son Raymond Eugene Hanks

I have always esteemed my mother as an honest woman. I remember when I was a child living out in Deer Flat, Nampa, Idaho, a statement she made, "Do not take a pin if it doesn't belong to you." Mother is a prayerful woman. By her I was taught faith in my Heavenly Father. I was taught to pry as a child. This teaching has been a real source of joy to me. Through prayer I have seen, as a boy, a band of sheep turn their course and return to the corral, I have witnessed the sick healed, I have seen poor judgment turned to wise judgment.
Mother is pleasant and kind. I am happy that my mother is My Mother. Raymond E. Hanks.
- Descendants of Ephraim Knowlton Hanks, Compiled by Golden Leone and Teton Hanks Jackman.
Death
"The Herald" Provo, Utah, Sunday 27 Jan 1963.

"Arthur Eugene Hanks, 80, of 289 E 400 N., Provo, died Saturday at his residence of natural causes. He suffered a minor stroke about a month ago.
He was born May 14, 1882, in Burrville, Sevier County, a son of Ephraim K. Hanks & Thisbe Q. Read Hanks. He married Mattie Taylor Little Dec. 30, 1906, in Hayden, Idaho. Their marriage was later solemnized in the Logan LDS Temple.
An active member of the LDS Church, Mr. Hanks served in the Nampa, Idaho Ward bishopric for five years, was a member of the Quirrah Stake Sunday School Board in Magna, and was a high priest in the Manavu Ward, Provo, at the time of his death.
Mr. Hanks resided in Salt Lake City from 1928 to 1936, and has been a resident of Provo since 1939. A former stockraiser and farmer in Wayne County, Utah, and Nampa, Idaho, Mr. Hanks later went into selling of flour, cereals and canned wheat in Salt Lake City. In about 1945 and 46, he was in the real estate and insurance business in Provo. Recently he produced and sold automotive gas savers.
Mr. Hanks was known for his congeniality and interest in people. Surviving are his widow, 3 sons, 2 daughters, 19 grandchildren & 19 great-grandchildren.
Funeral will be Tues. at 1 pm in the Manavu Ward; interment in the Provo City Cemetery."
Image Gallery
Links
Name Directory