Andrew Jensen
From Hanksplace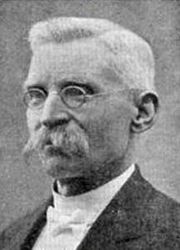 Relationship: Church Historian who interviews and records Ephraim's rescue account
Association: In June, 1891, when visiting the Sevier Stake of Zion in the interest of Church history, Andrew Jensen became acquainted with Elder Ephraim K. Hanks, who resided in Pleasant Creek, Wayne County, Utah. Andrew conducted an oral interview with Eph about his service with the rescue of the stranded Martin-Willie Handcart Saints. The narration is often quoted in similar talks.
Biography
Andrew Jenson, Assistant Church Historian, was born Dec. 11, 1850, in Torslev parish, Hjorring amt, Denmark, a son of Christian Jenson and Kirsten Andersen. His parents were among the first converts to "Mormonism" in that part of Denmark, being baptized in 1854. Andrew was therefore taught the principles of the gospel in his early youth and was baptized Feb. 2. 1859, by Elder W. J. Hecker. He received a good common school education, and at the age of fourteen he was successfully engaged in a small business enterprise, earning thereby enough money to pay his own passage to Wyoming, Nebraska, USA. With his parents and a younger brother, Joseph, he crossed the Atlantic in the ship "Kenilworth" and the plains in Capt. Andrew H. Scott's ox train, which arrived in Salt Lake City, Oct. 8, 1866. The family located at Pleasant Grove, Utah, and for about seven years Andrew worked at farming, railroading, and other manual labor. During these years his natural inclination led him to spend most of his spare time in study.
In 1870, he went to the "States in search of experience" and loaded with what he sought, he returned to Utah the following year, crossing the plains and mountains with a drove of Texas cattle, which were being taken to the great West. Having been first ordained an Elder, he was ordained a Seventy May 4, 1873, by Pres. George Q. Cannon and called on a mission to Scandinavia. Subsequently he filled five other missions to his native land, presiding over the Scandinavian Mission from February, 1909, to May, 1912.
In 1876 he began the compilation and translation of the History of Joseph Smith into the Danish language. When published in 1879, this volume was the first book ever published in the interest of the Church in a foreign language in Utah. This publication was followed later by "Kirkens Historie," "Morgenstjernen," a periodical, and other publications in the Danish language, not to speak of "Bikuben," a newspaper, which he conducted for the Church for ten years. After special studies in English grammar and composition at the University of Utah, he launched out on a more extended field by publishing the Church Chronology, the Historical Record (5 large volumes), the LDS Biographical Encyclopedia (4 large volumes), Scandinavian Jubilee Album, History of the Scandinavian Mission, and Autobiography of Andrew Jenson. He has written about 400 letters for the Deseret News and about 2,000 special historical articles (also for the Deseret News) which, according to plan will, no doubt, soon be published in book form, as an Encyclopedic History of the Church.
Soon after his return from his first mission in 1875. Andrew Jenson married Miss Kirsten Marie Pedersen, in the Endowment House, Salt Lake City, who subsequently bore him four children. Later he married Miss Emma Howell, who bore him three children and Miss Bertha Howell, who had one child. His first wife, Kirsten Marie Petersen, died in 1887, and his wife Emma Howell in 1937.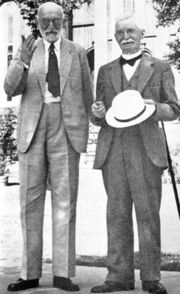 In 1882 he moved to
Salt Lake City
and located at 154 North Second West St., where he has since made his home. In 1932 he erected a "Memorial Hall" in the rear of his home, a brick building, the main floor of which, furnished with glass cases, is used as a Museum, containing a valuable collection of exhibits gathered during his extensive travels. The upper floor contains a lecture hall with a seating capacity of 100 persons, furnished with modern folding chairs, while on the north wall is painted an immense map of the United States showing places and treks of interest in Church History.
In 1891, Andrew Jenson became closely associated with the Historian's Office, being set apart by Apostle Franklin D. Richards April 16, 1891, as "an historian" in the Church, in which capacity he has visited almost every settlement of the Saints in the Rocky Mountains, from Mexico in the south to Canada in the north. The result of his labors in Utah, after being compiled under his direction in the Ms. Journal History of the Church, has resulted in the fact that Utah has a history unequaled in any State of the Union. And his travels in the interest of Church history has not been confined to the United States, for he has visited almost every foreign mission and twice has circumnavigated the globe. His travels on land and sea—and later in the air, by airplane, have exceeded a million miles. On April 10, 1898, at a session of the general conference, he was sustained as Assistant Church Historian, a position which he still holds. Since 1883, he has been associated with the Old Folks Central Committee, acting as vice-chairman since 1915.
Now at 88 years of age, Andrew Jenson is daily at his desk in the Historian's Office, usually the first to arrive and the last to leave. He enjoys remarkably good health, considering his advanced years and walks daily six blocks to and from his home and office.
Heart Throbs of the West, Kate B. Carter, Vol. 2, p. 290-291
Links
Name Directory